Herculite Marine Vinyl Fabrics
For all pleasure craft, power or sail, the marine fabrics by Herculite® provide the best answer for fabric accessories such as boom awnings, biminis, sun, navy and convertible tops, cloth curtains, dodgers, enclosures, cushions, mooring and protective covers of all types.
This yacht marine fabric is an essential covering component to protect both you and your boat from the harsh environment. These products are laminated with two plies of specially formulated vinyl with an inner reinforcement core fabric woven from high tenacity polyester cloth yarns and a unique multipart adhesive system. Herculite's Core Stability Process insures the highest level of dimensional stability and resistance to stretch for maximum performance.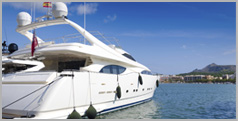 Boat owners can be sure that their vessel will remain dry and protected from the harsh marine environment when outfitted with Herculite Riviera Marine Fabric®. This yacht fabric has a soft and supple appeal and is available in several shades of white to match gel-coats from around the world.
Our core stabilized technology provides the marine fabricator with just enough stretch to make wrinkle free, quality jobs, every time.
Riviera Marine Fabric's® exclusive top-coat provides ease of cleaning, prolongs the life of the boat fabric and adds to the pleasing appearance of the surface. Herculite Riviera Marine Fabric® is colorfast, mildew resistant and waterproof.
It is well suited for a variety of marine applications, such as bimini tops, enclosure curtains, cockpit covers and boat covers and is backed by Herculite's 5-year limited warranty.
Learn more about our Riviera Marine Fabric.
European style softness
Lightweight
Engineered reinforcing substrate
Controlled stretch for ease of fabrication
Environmentally friendly coating
Easy to clean and maintain
Mildew resistant
Colorfast & waterproof
UV resistant
Five year limited Warranty
Warranty »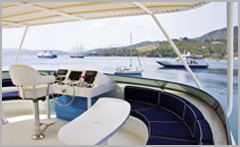 Boats that are covered with Regatta® marine vinyl fabrics offer the boat owner confidence that their covers will stay water-proof and tight on the frame. Regatta®'s exclusive Rain Kleen® finish on the weather side provides ease of cleaning, prolongs the life of the boat fabric and adds to the pleasing appearance of the surface.
Regatta®'s extreme strength and multidirectional stretch resistance, including the bias direction, affords superior contouring for the marine fabricator. Your covers will exceed your expectations and provide years and years of useful sun protection.
Learn more about our Weblon Regatta Marine Fabric.
Rain Kleen® finish on weather side
Vinyl and Polyester Composite
Waterproof & Mildew resistant
High, lasting strength – light weight
Dimensional stability – all weather
Heat, cold & abrasion resistant
White tops reflect heat, pastel linings relieve glare
Widest color selection
Compact storage wet or dry
Warranty »

Custom Engineered Marine Vinyl Fabrics
When a project requires specific features or attributes, our experienced development team will customize a product to meet your boat and yacht fabric needs. As you develop these new applications Herculite welcomes the opportunity to improve your bottom line.
Please contact Herculite's Customer Care Department at 1-800-772-0036