How to Care for your Vinyl Banner: Making it Last
Understanding what vinyl is made of is the first step in taking care of your vinyl banner.
---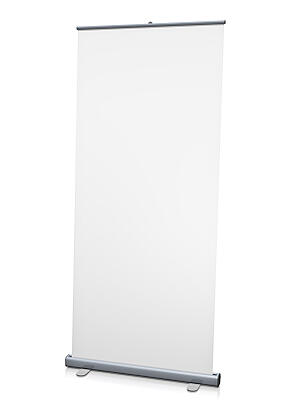 You've invested time, effort, and money into that awesome vinyl banner you showed off at the latest trade show or company event. But now that it's over, what do you do with your beautiful banner?
Remember, vinyl is durable but it can be damaged and over time, it can fade and wear out, or even crack.
Understanding what vinyl is made of is the first step in taking care of your banner. Vinyl is a type of plastic known as Polyvinyl Chloride or PVC. Vinyl is extremely durable and has a long life-span if cared for properly. Vinyl is resistant to moisture and humidity.
Vinyl also has a variety of uses and is found in sliding panels, flooring, furniture, gloves records, and banners. Vinyl is versatile and can be manufactured in a variety of colors. One of the many reasons vinyl is used in banner production is because it's relatively inexpensive, versatile, and long-lasting. In fact, vinyl is the second most manufactured plastic in the world!
Cleaning vinyl, especially vinyl banners is pretty easy. Here's a list of things to remember to do when cleaning your banner:
First, always remember to purchase strong, quality banners from your trusted manufacturer. Remember, it's not all about your bottom line. You want to buy a banner that will stand the test of time. Cheaper products can fade and fall apart. Investing in a top quality product will save you in the long run.

When cleaning your banner, wipe it down with a soft, damp, nonabrasive cloth. Try using microfiber towels or soft cotton towels. Avoid sponges and other abrasive materials.

Don't use harsh cleaning chemicals, detergents, or solvents; this can fade the color of the banner and damage it as well.

If you have to use soap to clean your banner, use something that is mild and free of odors. Remember to mix a solution of water and soap to use on your banner. Remember to wipe off all the soap from your banner before letting it dry.

Don't use paper towels, they are abrasive and can damage your banner.

Ensure your banner is dry before storing it.

Store your banner in a container and in a dry, cool place that's out of sunlight. Remember not to fold it as this can damage your banner. Try storing it so that letters and logos aren't touching each other; this helps ensure colors don't rub off on each other. But if you can't, try rolling the banner.

Finally, when hanging your banner, remember to use the proper tools. You don't want your banner to fall on the ground, get stepped on, or damaged from it not being hung properly.
Now that you know how to care for your vinyl banner, where can you get one that works for you? Herculite manufactures top quality vinyl banner fabric that fits your budget and your needs.
Herculite's Bantex® Banner Media products are the premier digital print media for all solvent based, UV curable and latex digital inkjet printers. Bantex® Banner Media graphic fabrics are manufactured from the highest grades of polymer films to ensure ease of profiling and the highest resolution possible. Optimal stock widths allow "full-bleed" printing on 36" and 72" output.
Herculite's Bantex Banner Media products are durable and long-lasting. If cared for properly, these banners will last and last. For more information visit www.herculite.com.