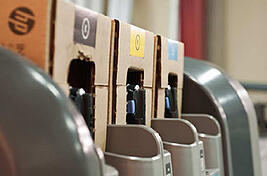 This blog article was written by John Evans, VP of Sales-Graphics at Herculite Products, who has over twenty three (23) years of experience in textile development and innovation. Email contact: jevans@herculite.com
Latex ink jet ink technology was introduced by Hewlett-Packard in 2008 for wide format graphic printing applications. The technology was driven by a demand for "green" solutions and is successfully making a move in the market from solvent to water based ink formulation. Latex printers offer one very tangible benefit; the removal of typical solvent odor. This opens the door for print shops to open in very public places such as malls and shopping centers.
The challenge has been to find a smooth block out digital media fabric that prints well with latex inks.
Herculite has recently introduced Bantex 10 Oz. and 13 Oz. Two-Sided Curl Free Media. A new fabric solution for all Latex printers.
Since the jury is still out on this subject, you may find it interesting to read 10 recent comments from latex ink printers via a Mimaki and HP Latex Users online user's group site:
Question: "Can anyone recommend a smooth block out banner that runs well in the latex? I talked with my vinyl banner rep but he said his company does NOT have a smooth banner that will work well with latex".

Reply 1: "I've heard good things about Herculite Bantex DS blockout 13oz Curl Free. I ordered a roll to try on our L28500. Herculite Bantex Curl-Free 13oz double-side blockout is the best vinyl I've ever used on the HP latex. No amount of heat will distort it so feel free to crank up the heater and curing module. You can print both sides perfectly."
Reply 2: "The Bantex Line of banners will print very well with the latex; it's a little more expensive but is the highest quality you can get your hands on."
Reply 3: "My experience on block out banner for pull ups is that it has been the hardest product to get right on these machines (L25500, 60"). Let me qualify that by saying we like a higher quality material that lays dead flat. We have been using an imported fabric with a black back blockout layer. Prints beautifully but they continue to have quality issues with harsh odors (smells like dead skunk!)"
Reply 4: "Herculite also now has a 10oz Curl Free product that is fantastic for Banner Stands. It prints as well as the 13oz, but better for the retractable banner stands."
Reply 5: "I'm using the 13oz in several banner stands with no issues. Is the 10oz a blockout material as well? I'll have to check this out."
Reply 6: "The 10oz is blockout. It is a brand new product. If you call Herculite they will send you out a sample roll so you can test print."
Reply 7: "I placed a call to my local Herculite rep and they are making arrangements to get a sample roll shipped out. Thanks for bringing this product to our attention."
Reply 8: "I just got my sample roll of the 13 thanks to the info in this thread and am itching to test it and would like to get my hands on the 10oz."

Reply 9: "The 13 OZ Herculite Bantex Curl-Free is a fantastic product. Thank you for posting about the 10 OZ version. Can't wait to try it."
Reply 10: Test rolls are available at no charge. Please click on the link below to request your free test roll of Bantex Curl Free. Thanks for reading our blog, and we wish you continued printing success!