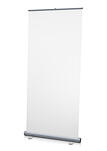 Can Banner Media Help Your Business?

Banners are one of the simplest, lowest cost, yet most versatile ways to call attention to a business, trade show booth, or new product. Retail shops utilizing banners can communicate with humor, creativity and effectiveness - using a medium that can often be reused continually with proper care. Printing logos, sayings, and product announcements add visual creativity that communicates your point and can be delivered in vibrant colors, shapes and sizes.
Banners are both cost-effective and quick to create and produce. Vinyl banners, for example, represent the most cost-effective approach. Simply find a company offering banner design services – you can pick one of their templates or make your own. Submit your designs to a laminate banner printing shop and they will have your banner material digitally printed and ready for you in a matter of hours or days. Effectively designed banners can turn your message and company name into a constant presence in your viewers mind.
Mobility is another reason banners are very popular. You can place them almost anywhere for the amount of time it takes to hang one. Banner materials generate a product that is easy to handle and lightweight to transport.
Herculite Media Banners Are Colorful, Creative and Cost Effective

Quality counts when looking for longevity and brilliance of color to make for high-impact advertising. Herculite®, Inc. is an innovative fabric manufacturing company, and we have been specializing in high performance laminated & coated fabrics for more than 60 years. Bantex® banner fabrics from Herculite offer a pliable approach to advertising that can be rolled up and stored from season to season. Grand opening banners, way finding signs, and on-sale banners hung above racks of sale products are some very common examples.

Advertising banners are abundant because they work. Striking visual banners are directly responsible for increased sales. Most people do not realize that 65% of in-store purchase decisions are made at the last minute, and are usually triggered by a form of dynamic advertising located nearest a product - such as a banner. And today's digitalized printing processes make for extraordinarily dynamic advertising at amazingly low costs to produce.
Bantex® Banner Media: Digital Printing using a variety of ink types

Bantex® is the premier digital print media is for all solvent, eco-solvent, UV curable and latex digital inkjet printers. Bantex® Banner Media graphic fabrics are manufactured from the highest grades of polymer films in order to deliver ease of profiling with extremely high resolution. These light weight banner fabrics for the graphic fabrics industry are micro-textured for super smooth, highly consistent surfaces. Economical 10 OZ. and 13 OZ. banner versions are available for printing on two sides, and provide exquisite color clarity and dot gain control. Bantex® is the digital printer's choice for both performance and economy.
As one of the founders of the synthetic fabrics industry, Herculite® pioneered the use of laminated fabrics in many industries. Today, the Herculite® fabric company provides a vast array of brands, products, marketing, design, manufacturing, consulting and technical expertise for the benefit of each individual customer's need. So, remember to specify Bantex® from Herculite for your next advertising launch today.