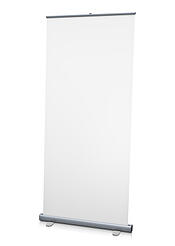 There are a variety of things you need to think about when setting up a tradeshow display. It's easy to get caught up in the creative process, focusing more on the graphics of the banner, but choosing the right banner fabric and banner stand is extremely important as well. Even the most creative and beautiful tradeshow display will suffer from being printed on low quality banner fabric or being supported by a flimsy banner stand.

So how can you make sure that you're choosing the right fabric and hardware? One of the bonuses of living in the electronic age is that more and more information is at our fingertips. The most important thing you can do when trying to figure out what company to go with is the reviews of the printing business. Experience is the best way to find out whether or not the banner fabric you chose will work for you, not the technical specs.

If you're having trouble finding online reviews of different banner fabrics, another great way to get a feel for it is to order a sample. Almost all high quality banner fabric companies, like Herculite Bantex, do offer sample rolls. Another option is to go to a brick and mortar printing store and see what kind of banner fabrics they have. They may not have as many options, but it's a way to actually touch and view the product. It's also often possible to special order the right banner fabric for you.

Still, there can be so many options and similarities in products that it can be hard to choose. That's where the technical specs come in. Being able to cross reference each banner fabric against each other will go a long way towards making your decision. For example, you'll want to make sure that the fabric allows for the printing you want. You may be able to find fantastic banner fabric that sounds like it's right for you, only to find out that you'll get a lower quality image. You'll also want to make sure that shrinkage isn't a problem and that it has the stiffness you need. Another thing to keep in mind is whether or not the fabric and the ink is meant to withstand the outdoors if you're planning on displaying it outside.

Hardware is just as important as your fabric. A loose banner doesn't look nearly as professional as one that uses a banner stand, and a poor banner stand will detract from your image as well be less durable.

A good way to choose a banner stand is to see all the many options the company has. The fewer the options, the less likely it is that you will find the kind of match you are looking for. For example, if you look at the banner stands offered by Orbus Exhibit & Display, you'll notice that their product lines are varied enough that it would be easy to find a banner display that suits your needs.

The internet really is your best tool when choosing banner fabric and stands, as well as other products your company might need. Between the ability to quickly compare different brands and technical specs, you have the chance to directly interact with the company as well as communicate with those who have tried the product in the past. Everyone's needs are different, so choosing a banner stand is different for everyone, but finding the right banner fabric and hardware is a similar journey.