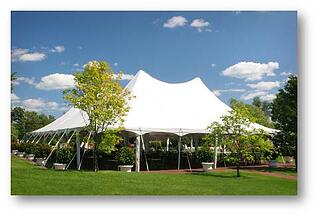 Take a walk or drive around local parks and event spaces any time of the year and you'll see on thing pop out at you again and again. Party tents. Weddings, birthdays, graduations, retirements, corporate events — name the event and you will likely see a tent accompany the festivities.
Tents have three distinct advantages when it comes to events that helps fuel their popularity: environmental protection, space demarcation and customization features.
Environmental Protection
Mother Nature can wreak havoc on events. Rain, heat, wind and the effects of weather on the ground can ruin an event quickly. Party tents help protect against the worst the weather and climate has to offer.
Rain is the most obvious weather hazard when it comes to events. A tent will keep rain off of guests and the ground underneath the event so event goers don't find themselves ankle deep in mud.
Tents also protect against both heat and cold. In hot weather, tents provide shade from the heat and a space you can easily cool down with fans and cooling systems. In cool weather, tents can help trap heat to keep guests warm and withstand warmth provided through heaters.
Because of the environmental protection offered by party tents, many planners use them as the "Plan A" for events. With a tent already in place, you don't have to have a backup plan when the weather turns against you.
Defining a Space
Often during events, you want a clearly defined space for your guests and those in attendance. Tents provide a visual definition of the event space and can be used to set off various activities going on within an event.
For example:
•Weddings can use tents to define a reception space;
•Corporate events can use tents to keep participants together so everyone can hear, engage and participate in activities;
•In parks or other public spaces, tents serve as a visual landmark for the event and discourage non-participants from joining in;
•And multi-use venues can use tents to define specific spaces for various functions.
Customized Tents
With today's fabric technologies, party tents now offer customizable features and solutions to make each event special and unique.
Our Showtime theme park and event tent fabric is the perfect choice for a more custom tent. Options include 22 different colors to choose from. With Showtime GraphicTent Fabric, you can also produce graphic elements onto tent fabric using pressure sensitive graphics or UV-curable inkjet printers.
Both options provide limitless opportunities to turn a generic event space into a highly personalized party tent for any event.
So the next time you plan an event, consider all the benefits a party tent could bring to your function.
Click to Receive Samples