---
Awning Project Subject: Golden Hill Nursing and Rehabilitation Center
Awning Textile Subject: Excel M Series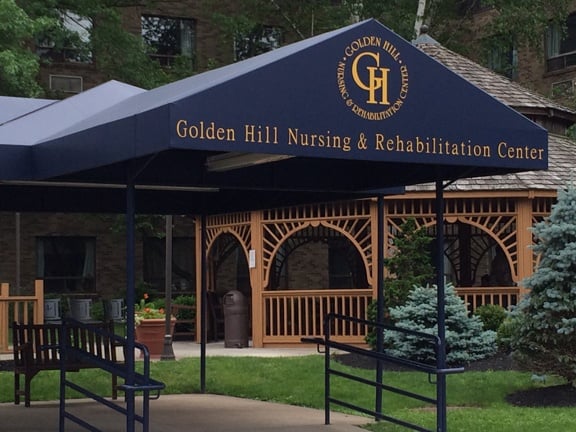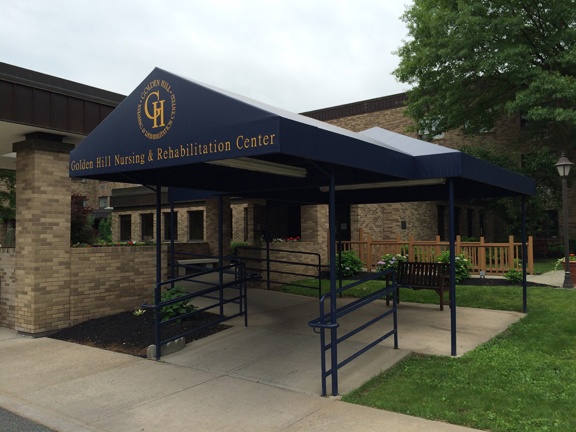 Project Name: Golden Hill Nursing and Rehabilitation Center

Project Location: Kingston, NY
Fabricator Name: Awnings Direct
Project Designer: Lu Ann Deak
Project Installer: Ron Deak
Company Location: Catskill, NY
Fabricator Website: http://www.myawningsdirect.com/

---
Project Story:
This Project was submitted to us by Awnings Direct. This was a recover of existing frame that was manufactured by Expert Awning in Kingston, NY. It features large entrance canopy that is designed to keep patients and vistors comfortable walking to and from the building during hot days or during rainstorms. The awning also provides signage for the facility which was accomplished using pressure sensitive graphics. The client was looking for a nice design structure and fabric durability that would be waterproof and easy to maintain.
Graphic Method: Pressure Sensitive Vinyl Graphics
Designer challenge: The year round awning structure had many complex shapes and angles which required a fabric which could be easily manipulated with a soft hand. The Excel fabric had to conform to numerous overlapping hills & valleys on six sections of welded frame.
Project uniqueness: The frame was painted to match the Excel M fabric. Even matching blue chalk was sourced to enhance the finished project.
Project benefits for the Owner: New owner of the facility wanted to upgrade the appearance of the entrance. Excel M Series awning fabric was chosen because it offered an extended life 8-year warranty and features a elegant matte finish surface. The client did not want a high gloss surface appearance.