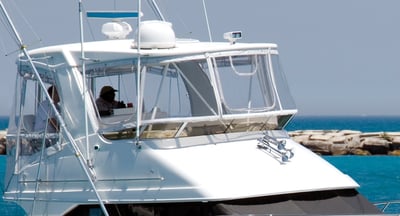 Your high-end marine vessel deserves only the best sun shade material. While acrylic is the most popular choice amongst mariners, vinyl offers a higher quality, particularly when it comes to lighter shades. Vinyl is naturally water-repellant and is easier to clean than fabrics like acrylic.
Choosing A Sun Shade Marine Fabric
There are two vinyl fabric options: coated vinyl and composite vinyl. The difference is in the technique with which they are manufactured. In terms of stain prevention, cleanability, durability and appearance, composite vinyl fabric is far superior to coated vinyl fabric.
Coated vinyl is created by pouring liquid PVC over polyester; after the materials bond together, they become a single layer of fabric. Conversely, composite vinyl is made by sealing together layers of film and fabric with intense pressure and a multipurpose coating adhesive. The adhesive used in the construction of the fabric includes additives, which are crucial in enhancing the durability of the fabric and film.
Within composite vinyl fabric product lines, there are vast ranges in quality. The Riviera line has a proven record of outlasting the competition in lifespan and quality. These fabrics are made by Herculite, a pioneering synthetic fabric company, and are both durable and attractive. Core stabilized technology gives this boat sun shade fabric enough stretch to guarantee a wrinkle-free appearance on your marine vessel. Herculite stands by the quality of its product, providing consumers with a five-year warranty following initial installation.
Marine Fabric Considerations
There are myriad opportunities for a boat's sun shade to fall victim to unsightly stains, whether at sea or docked at the marina. Bird droppings, the salty sea air, bacteria and simple spills can quickly morph fabrics from a fabulous to forlorn appearance.
Because coated vinyl consists of only a single layer, it has the tendency to absorb these blemishes, making stains difficult to remove. The only way to remove them is through the use of harsh chemicals. Meanwhile, composite fabric is resistant to stain absorption due to its multiple sealed layers. Liquids and dirt rest on the topcoat, making it easy to wipe away residue without the need for damaging chemicals.
Lower quality boat sun shade fabrics turn superficial spills into critical problems. Repeated exposure to chemical stain-removers causes fabric to degrade in appearance as well as waterproofing ability. After repeated chemical cleaner exposure, coated vinyl begins to lose the fight against moisture, leading to mold and mildew. Though it may not affect the appearance of the fabric, these growths still result in an overpowering odor.
Invest Wisely
After making a substantial investment in a high-end marine craft, you'll want the vessel to look its best at all times. One of the most noticeable components of your boat is its sun shade. Instead of installing cheap material that quickly degrades and looks ragged, use the best composite vinyl material in the industry with Herculite Riviera.
When it comes to marine fabrics, laminate provides several clear benefits. Learn more by checking out our latest eBook, "Why Laminated Marine Vinyl Fabrics Offer Advantages Over Coated Marine Vinyl Fabrics".