AWNING FABRICS
Patio 500® Awning and Shade Fabric
This high performance composite PVC textile is engineered for commercial and residential awnings and canopies. It incorporates specially formulated flexible polymer technology and a high tenacity polyester substrate. It is suitable for sewing, welding, digital printing and fabrication by various means common in the awning fabrication industry. In addition to its durability, Patio 500 Awning Fabric is a commercial grade PVC fabric that carries a five (5) year manufacturer's warranty against UV degradation or fading. It is mildew, stain and dirt-resistant.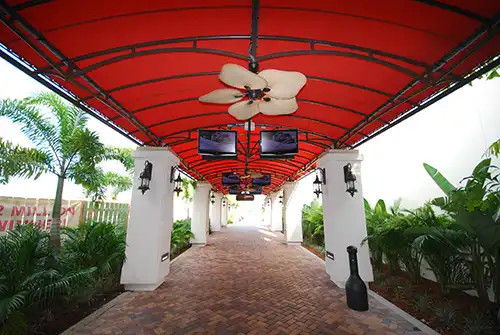 Engineered for Style and Performance
Awnings and canopies fabricated with Patio 500 offer their owner confidence that their awning canopy will stay water-proof, tight on the frame and stay inherently fire resistant. With a properly engineered frame support structure, Patio 500 is suitable for year round snow load and wind load requirements. Awnings made with Patio 500 Awning Fabric will provide years of useful weather and sun protection.
| | |
| --- | --- |
| Construction | Vinyl laminated on a woven synthetic fabric. |
| Width | 61 inches/1.55 meters |
| Roll Size | 50 yds |
| Weight | 17.5 oz./yd² +/- 10% |
| Finish | Textured |
| Graphics | Heat-sealed and inset fabrics, silk screening, hand painting and appliqué. |
| Welding | Heat sealable & sewable |
| Warranty | 5 Years |
| Flame Retardent | CSFM Title 19, NFPA 701, ASTM E84 Class A, M2 |

Style, Versatility, and Strength
Excellent for both residential and commercial awnings applications, Patio 500 is suitable for year round snow load and wind load requirements.

Waterproof
Waterproof and SPF 50+, Patio 500 Awning and Shade Fabric provides excellent protection from the elements, ensuring that it looks good and performs even better.

Made in America
Herculite awning fabrics are made in our facility in York, Pennsylvania for the finest in quality control. All our textiles are packaged to high standards to ensure easy use.

Bright Colors
Patio 500 awning fabric is available in a range of bright colors that are formulated to resist UV fading. This ensures your awning will look good for a long time.
FAQ
Need more information?
How do you weld Patio 500?
Some of the most common methods used for seaming Patio 500 Architectural Awning Fabric:
Hot Air Welding
This process of vinyl welding involves the use of hot air—varying from 200 to 600 degrees C or more—to weld two layers of fabric. A nozzle is inserted into the space between the two layers and the hot air is blown inside. Once the surfaces are hot enough, the layers are pressed together using pinch rollers. The weld is created once the rollers are finished pinching the fabrics together.
Radio Frequency Welding
Also known as high frequency or dielectric welding; uses radio waves to create heat.
Solvent Welding
In this process, chemical solvents are used to create a seam. The solvent is placed along the surface of the fabrics and allowed to rest for a short period of time. The solvent's chemicals break down or soften the fabrics. Once the fabrics are soft enough, pressure is applied to create the seam.
Wedge Welding
Two pieces of fabric are passed through a wedge. The wedge is heated and as the fabrics move along, a roller is used to press them together; a seam is created.
Sewing Using Polyester or Teflon Thread
The seam is created using a sewing machine. Proper thread selection is critical especially when outdoor applications are subject to harsh weather elements. Polyester and Teflon threads offer strength and durability.
Full welding guide available here.
What is the warranty?
Patio 500 carries a five-year limited manufacturer's warranty. Complete warranty terms and conditions are available from Herculite Products Inc.
Patio 500 Warranty information available here.
How do I maintain my Patio 500 awning?
Patio 500 Awning Fabric is a polyester reinforced PVC fabric that will provide many years of satisfactory service. It is waterproof, flame, mildew, stain and dirt resistant. The Rain Kleen® surface treatments further enhance longevity and ease of maintenance. Properly fastened to the frame, it will retain its trim fit as well as its protective function and aesthetic value. Since no industrial textile is impervious to all hazards, periodic and proper maintenance is important if maximum life of the product is to be realized.
Detailed care and cleaning instructions can be obtained from the manufacturer or distributor of Patio 500 Awning Fabric.
Patio 500 Care and Cleaning information available here.
Interested In Learning More About Herculite?