OUR PRODUCTS
Herculite®: The Leading Name in Awning Fabrics
Herculite is a synthetic textiles pioneer. We've been producing the highest-quality awning materials for more than half a century. All of our fabrics are developed, produced, and checked for quality at our Emigsville, PA campus. Architectural awnings designed with Herculite's Awning Fabrics provide extra outdoor living and extended seasonal space, protect interior furnishings from fading and ultra violet damage.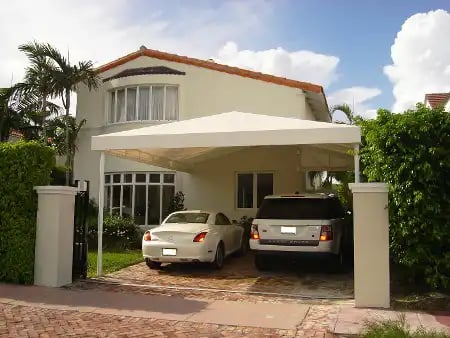 Herculite Awning Fabric Brands
Durable Textile Solution
Broad range of color options.
Heat sealable and sewable.
5 Year Warranty
Top Coated Fabric Technology
Solid colors and stripes.
Accepts vinyl graphics.
5 Year Warranty
Textured Surface Treatment
Commercial-grade engineered thermoplastic.
Digitally printable.
10 Year Warranty
Fabric Design Element
Woven, fabric-like appearance.
Digitally printable.
8 Year Warranty
Optically Clear Enclosure Screening
Outdoor room expansion
Flame-resistant formulation.
Dimensionally stable.
Benefits of Herculite Awning Fabric Brands

Waterproof
It's not just enough to be water resistant, which is why Herculite Awning Fabrics are waterproof, ensuring that your awning will provide protection regardless of the weather.

UV Resistance
Herculite Awning fabrics are built to withstand the harsh UV rays from the sun, ensuring that they look good for the life of the awning, and provide protection for the people who are enjoying its shade.

Easy to clean and maintain
Regardless if the awning is residential or commercial, you will want to make sure it looks good. Herculite's fabrics are easy to clean and resist fading, fraying, and mildew growth.

Mildew Resistant
Keeping your awning fresh and clean looking will be easy thanks to the inherent mildew resistance that Herculite awning fabrics provide. Just simply clean and wash and your awning will look as good as new.

Flame Resistance
All Herculite Awning Fabrics are flame retardant meeting CSFM Title 19, NFPA 701, and ASTM E84 Class A specs providing an additional level of safety and security while helping to meet local building codes.

Vivid Color Selection
Awnings are an architectural gem, the right colors can add a bright pop to any commercial business or residence. The also work as a great way to reinforce your company's branding.

American Made
Each and every awning fabric made by Herculite is manufactured, inspected, and packaged, and supported by local staff, at one of our two manufacturing facilities here in the United States.

Manufacturers Warranty
When you install an awning, you want to maximize its life and value. Our products are built to last, which is why we back our products with industry-leading manufacturers warranties.
Cosmetic Flourish
An awning is an invitation to step inside. With a range of beautiful textured vinyl fabrics and hundreds of colors to choose from, Herculite materials can become the most compelling invitations on the block.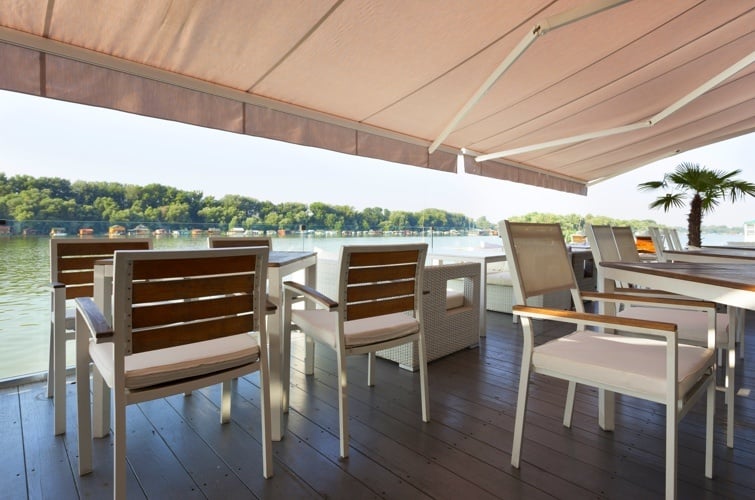 Environmental Advantage
PVC composite fabrics are more effective than other materials at reducing solar heat gain, helping property owners save up to 79% on their energy costs. Herculite awnings can even help you earn LEED Certification.
Valuable Asset
Durable awnings add value to a structure by extending livable space, improving curb appeal, and minimizing maintenance costs. Herculite awning fabrics all come with a minimum 5-year manufacturer's warranty.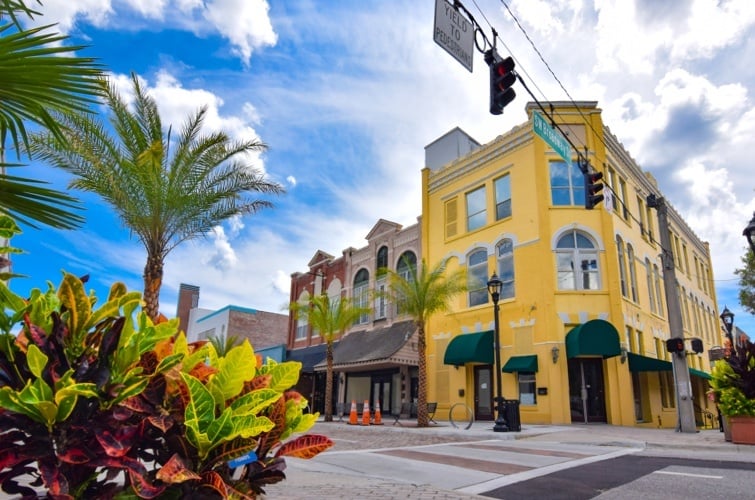 Our mission is to help our customers grow their business by delivering products and services of exceptional value distinguished by their quality and innovation on time, every day. In return our customers reward us with the privilege of being their solution provider. Simple.
HERCULITE MISSION STATEMENT
Hotel/Multifamily

Entertainment Complex

Restaurant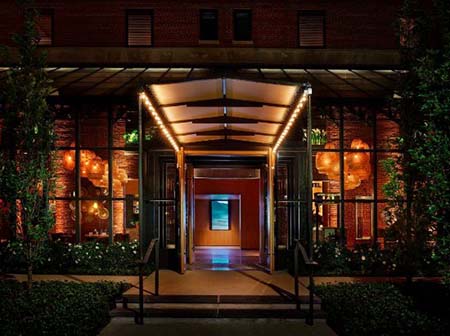 The Asbury Hotel
Hudson Awning Company, Inc. began their history making sails for the tall ships that docked along the Hudson River way back in 1881. Today, they are a respected custom awning, canopy and shade structure provider for commercial, residential, retail, and other facilities. When they were asked to provide canopies for The Asbury Hotel, a hip new project on the Jersey Shore, they knew Herculite awning and canopy fabrics were up to the task.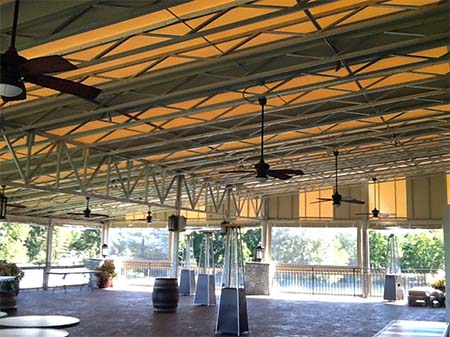 Gregory Sahagian & Sons
Willow Ridge Country Club hired Sahagian & Sons to build an outdoor, year-round dining area next to the banquet room of the clubhouse. They hoped the finished product would provide members with a way to enjoy the beautiful outdoor vistas as they dined, as well as match the overall aesthetic of the country club itself.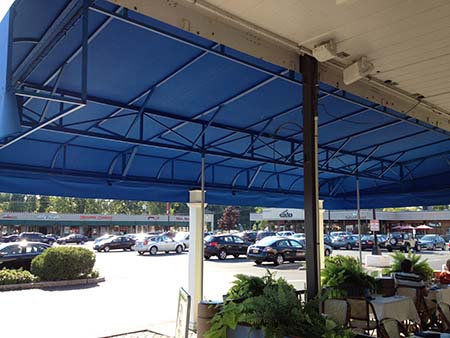 Awnings Direct
Awnings Direct was hired by Provence Restaurant and Wine Bar to build a patio awning that would serve a dual purpose: protect their customers from the sun and elements while dining al fresco, and increase the overall seating capacity of Provence. Additionally, Provence wanted a restaurant-style canopy with a natural, canvas, look that would provide commercual quality durability while complying with fire-retardant policy.
The Latest from Our Blog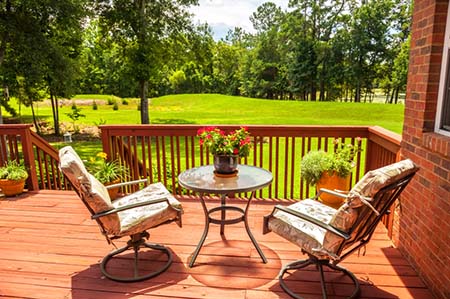 So you have a nice deck; it's beautifully crafted with waterproof wood and designed to complement your home. You've got some great furniture out there that your family enjoys. You might even have an a...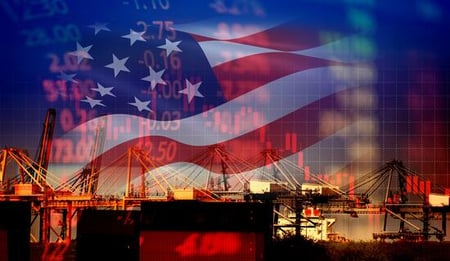 AMERICAN MADE FABRICS
From our campus
in York, Pennsylvania
Herculite started manufacturing in the American industrial heartland more than 60 years ago. An early innovator in synthetic fabrics, we went on to become a leading producer of rugged, high-tech textiles for numerous industries.