MARINE FABRICS
Herculite® Weblon Regatta® Marine Fabric
Weblon Regatta from Herculite is an all-weather boat fabric that's built to withstand the rigors of the marine environment. Boat fabrics must stand up to intense sun and harsh weather without fading, stretching, or fraying, and our waterproof boat fabric is up to the task. When you use Weblon Regatta® for your Bimini tops or boat covers, you'll cover your marine craft with an attractive look your customers will love.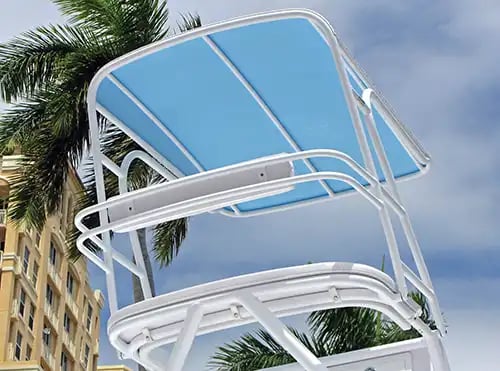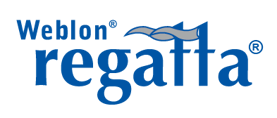 Marine fabric designed to beat the elements.
Our marine fabrics are made from strong, flexible polyester fibers with a vinyl coating that makes them waterproof and resistant to wear and tear. Regatta's exclusive Rain Kleen® coating ensures that your Bimini top, dodger, or other type of enclosure stays true to its original color. It will also ensure that your craft is safe from the harsh effects of sun and spray. Weblon Regatta® is a worry-free solution that overcomes the challenges all-weather boat fabrics face.
| | |
| --- | --- |
| Construction | Vinyl laminated on a weft insertion scrim base of high tenacity filament polyester. |
| Width | 62 inches/1.57 meters |
| Roll Size | 50 yds |
| Weight | 13 oz./yd² +/- 10% |
| Colors | Available as single color or with pastel underside. |
| Surface Treatment | Rainkleen® Finish |
| Welding | Can be sealed by hot air wedge welder or radio frequency bar type. |
| Warranty | 5 Years |

Available in Duplex Colors
Featuring classic marine colors to stand up to the elements, Weblon Regatta is available with a white top side and pastel linings to relieve glare on the water.

Stretch Resistant
Regatta® is stretch-resistant to maintain the shape your customers want. Once sealed, it resists stretching and maintains its shape to avoid warping and sagging.

Age, Fade, Dirt and Mildew Resistant
Weblon Regatta fabrics are top coated with Rain Kleen®, a proprietary top coating system that helps prolong fabric life and preserve its color intensity.

Made in America
Weblon Regatta is made in our facility in York, Pennsylvania for the finest in quality control. All our textiles are packaged to the highest standards to ensure easy use.
Where to buy Herculite Weblon Regatta fabrics?
Marine Fabricators and Custom Marine Trimmers can source Herculite Marine Fabric Brands from authorized wholesale distributors throughout the United States. Our distribution partners are industry leaders and carefully selected ensuring product quality and availability.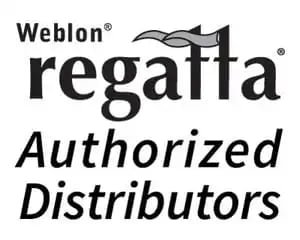 FAQ
Need more information?
How do you weld Weblon Regatta?
Some of the most common methods used for seaming Coastline Plus Architectural Awning Fabric:
Hot Air Welding
This process of vinyl welding involves the use of hot air—varying from 200 to 600 degrees C or more—to weld two layers of fabric. A nozzle is inserted into the space between the two layers and the hot air is blown inside. Once the surfaces are hot enough, the layers are pressed together using pinch rollers. The weld is created once the rollers are finished pinching the fabrics together.
Radio Frequency Welding
Also known as high frequency or dielectric welding; uses radio waves to create heat.
Solvent Welding
In this process, chemical solvents are used to create a seam. The solvent is placed along the surface of the fabrics and allowed to rest for a short period of time. The solvent's chemicals break down or soften the fabrics. Once the fabrics are soft enough, pressure is applied to create the seam.
Wedge Welding
Two pieces of fabric are passed through a wedge. The wedge is heated and as the fabrics move along, a roller is used to press them together; a seam is created.
Sewing Using Polyester or Teflon Thread
The seam is created using a sewing machine. Proper thread selection is critical especially when outdoor applications are subject to harsh weather elements. Polyester and Teflon threads offer strength and durability.
Full welding guide available here.
What is the warranty?
Weblon Regatta carries a five-year limited manufacturer's warranty. Complete warranty terms and conditions are available from Herculite Products Inc.
Weblon Regatta Warranty information available here.
How do I maintain my Herculite Weblon Regatta fabrics?
Weblon Regatta Fabric is a polyester reinforced PVC fabric that will provide many years of satisfactory service. It is waterproof, flame, mildew, stain and dirt resistant. Herculite's Rain Kleen® surface treatments further enhance longevity and ease of maintenance. Regatta™ is dimensionally stable. Properly tailored, it will retain its trim fit as well as its protective function and aesthetic value. Since no material is impervious to all hazards, proper maintenance is important if maximum life of the product is to be realized
Detailed care and cleaning instructions can be obtained from the manufacturer or distributor of Weblon Regatta Fabric.
Weblon Regatta Care and Cleaning information available here.