HEALTHCARE FABRICS
'Lectrolite® Electrostatic Conductive Fabrics
Constructed of specially formulated thermoplastic films and synthetic fibers, 'Lectrolite conductive fabric helps control electrostatic discharge. This conductive cloth also prevents the accumulation of a static charge that would interfere with sensitive electronic equipment. When you use conductive fabric, you're taking the extra step you need to protect your patients.
Conductive fabrics are essential to the healthcare industry and companies that face the danger of explosions from flammable gasses. With conductive fabric from Herculite, your hospital will eliminate the possibility that electrical currents will interfere with sensitive life support equipment.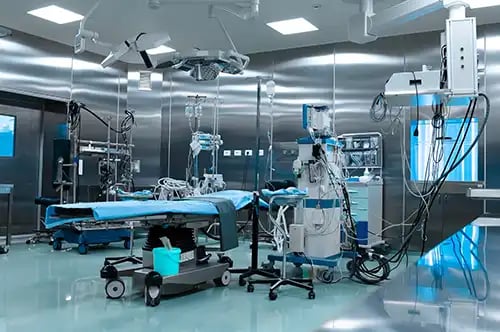 Herculite's 'Lectrolite line of conductive fabrics is trusted by healthcare facilities and other specialized customers across the nation. We offer a number of options in our 'Lectrolite line — each comes with its own set of advantages.
'Lectrolite® Comfort
This conductive fabric conforms comfortably to the body thereby allowing the patient to benefit from the comfort features of the mattress, pad or cushion.
'Lectrolite® Duotone
Duotone offers durability and the best value.
'Lectrolite® Premium
Premium is durable and designed for maximum performance when used in conjunction with HR (high resilient) foam.
'Lectrolite® Fusion III HP
Fusion III HP performs best on products designed to achieve low interface pressure readings. This conductive fabric provides protection and comfort, along with a balanced stretch in both directions.
FAQ
Need more information?
How do I maintain my 'Lectrolite Fabrics?
STAIN RESISTANCE, CLEANING & DISINFECTION
'Lectrolite fabrics were designed to be safe, comfortable, and long lasting. They are designed resist staining from most medications, oils, grease and contaminants. To maximize the life of these products, Herculite® recommends regular cleaning as follows:
GENERAL CLEANING:
Soils or Stains: Use neutral soap suds and lukewarm water. Do not use harsh cleansers, solvents or detergents.
Hard-to-Clean Spots: Use standard household/vinyl cleansers and a soft bristle brush and gentle agitation on troublsome spots or stains. Presoak heavy, dried-on soil.
DISINFECTING:
All 'Lectrolite fabrics may be cleaned with a 1:10 dilution of household bleach containing 5.25% hypochlorite to water, as recommended by the Center for Disease Control in Atlanta, GA. There is no harmful effect on the fabric when this dilution ratio of household bleach is used.
If aggressive disinfectants are necessary, phenolic disinfectants are acceptable for use on vinyl products, and quaternary disinfectants are acceptable for use on urethane products. Concentrated phenolic disinfectants are not recommended for use on urethane products. Concentrated quaternary disinfectants are not recommended for vinyl products. These disinfectants should always be used in the dilutions recommended by the manufacturers. Improper dilution can cause damage to these fabrics.
SPECIFIC COMMERCIAL DISINFECTANTS:
There are many popular disinfectants being used in care facilities. Cavi-Wipes and Virox5 are two of these that have been tested by Herculite and found to be acceptable for use with these fabrics when used according to manufacturer's recommendations.
Other specific products can be tested by Herculite when the request is accompanied by an unopened product sample. Contact your Sales Representative to coordinate this. Results are communicated in approximately 4-6 weeks.
PRECAUTIONS:
Disinfectants applied at full concentration or in highly concentrated solutions may damage the fabric and will decrease the useful life of fabrics.
Iodophor type disinfectants used on these fabrics may result in staining. If stains from Idopher (i.e. iodine bearing) type disinfectants are not treated with a diluted (10 to1) bleach solution within 20 minutes of application or spillage, staining will occur.
Storage of fabrics that have not been dried thoroughly before folding and storing can promote the growth of mildew.
Detailed care and cleaning instructions can be obtained from the fabricator or manufacturer.
Fabric Care and Cleaning information available here.
What are the typical properties of 'Lectrolite Fabrics?
| | | | | |
| --- | --- | --- | --- | --- |
| | 'Lectrolite Comfort | 'Lectrolite Duotone | 'Lectrolite Premium | 'Lectrolite Fusion III |
| Material | Vinyl laminated on a jersey knit scrim base of high tenacity filament polyester. | Vinyl laminated on a weft insertion scrim base of high tenacity filament polyester. | Vinyl laminated on a weft insertion scrim base of high tenacity filament polyester. | Cast polyurethane surface on a nylon jersey knit base fabric. |
| Colors | Black | Black Face Green Back | Black Face Tan Back/td> | Black |
| Width | 48 inches | 54 inches | 54 inches | 59 inches |
| Length | 100 yds. | 100 yds. | 100 yds. | 100 yds. |
| Weight | 9 oz./yd² | 11 oz./yd² | 11 oz./yd² | 6.7 oz./yd² |
| Welding | Stitching, Ultrasonic, and Cementing | Stitching, Ultrasonic, and Cementing | Stitching, Ultrasonic, and Cementing | Stitching, Ultrasonic, and Cementing |
| Flame | NFPA 702 | 16 CFR 1632 | ASTM 6413 | Crib 5 |
| Antimicrobial | ISO 22196 | ISO 22196 | ISO 22196 | ISO 22196 |
Healthcare Innovations
Sure-Chek Antimicrobial Fabrics
Sure-Chek fabrics incorporate a proprietary antimicrobial additive. This controlled release feature allows the migration of the antimicrobial agent to the fabric surface effective for the life of the product. The antimicrobial agent helps protect the fabric from microbial attack and reduces undesirable organic odors. Sure-Chek brand antimicrobial fabrics were developed for health care and patented for use as protective covering fabrics in medical environments. Developed in cooperation with healthcare professionals, they have been the industry standard for over 60 years.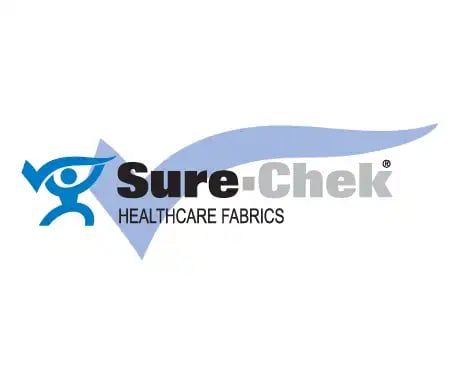 Related Healthcare Fabrics