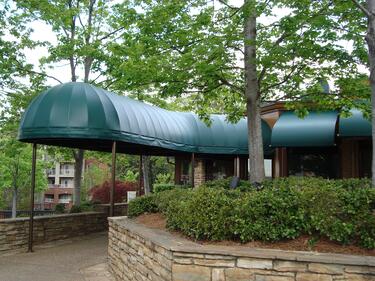 Choosing exactly the right material and framing style for your awning requires a handful of information.
This information includes:
Material Style Preferences
Weather Patterns/Sun Exposure
Available Colors
Appropriately Durable Materials
Specific Needs
Awning Frame Style
Awning Frame Fastening Preferences
Herculite®, Inc. is an an innovator of fabrics that specializes in high- performance laminated & coated fabrics. For more than 65 years we have been known as a primary founder of the synthetic fabrics industry. This is because Herculite® has pioneered the use of laminated fabrics in multiple industries. We have also innovated new awning textile technology in products such as Natura®, a vinyl fabric that has the look and feel of a woven cloth fabric.
Researching the Right Fabric and Frame Style for your Awning Material
Today,Herculite fabrics delivers a huge array of choices for:
Products
Marketing
Designs
Printing/graphics
Materials
Styles
Brands
Frames
Fasteners
Manufacturing
Technical needs
We also provide technical consulting expertise. These services are available to every interested customer. Our fabric quality has never been matched due to the patents held in our name. This makes us unique for the quality of durability, longevity and ease of function as well as ease of use. Produced using knitted polyester scrims that provide vigorous tear resistance, you will not be able to find a match for our fabric's strength or flexibility. Wider widths that better fit your needs can be easily customized, produced and delivered.
Awning Material Designs and Graphics
Our fabrics can be digitally designed by clients, as well. Herculite awning fabrics can accept digital and screen printing directly onto the fabric. We provide consistent square-yard weight averages that provide extraordinary abrasion resistance as well as a longer life.
Our fabrics are produced to the highest standards. This means they are completely waterproof, mildew repelling and ultra violet light resistant. Our fabrics meet the industry flame resistant standard; CSFM Title 19.
Custom Engineered Fabrics for Exactly the Right Awning Style
Anytime your project requires specific attributes, features or qualities - our experienced development team can customize your product to meet every detail of your specific need. For the perfect awning style for your needs you will need to choose from several different approaches for securing your fabric to your awning frame. Your local awning contractor will help with this decision based on your specific needs and situation.
These options include:
Fixed Frame
Retractable
Open ended
Valance or no valance
Grommet or Staple Fasteners
Please contact us today at the Herculite's Customer Care Department: 1-800-772-0036.