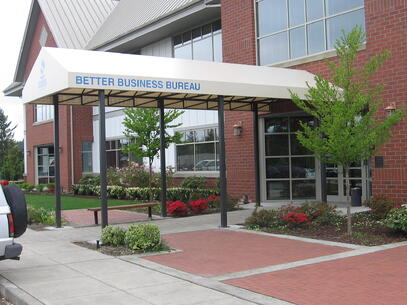 A great awning is an eye catching brand-builder, that invites people to come in, out the rain or the sun and enjoy what your store or cafe has to offer. You can increase revenue with commercial awnings in a few different ways. Keep this in mind when deciding how you spend your restoration and improvement budget. Wouldn't it be great to add a feature that pays for itself?
Brand recognition
The name of your business, once established as an icon of quality and excellent reliability becomes of almost inestimable value. To really understand the power of a brand, just consider, it costs over 1 million dollars to use the word "batman" under a license to sell merchandise with that word and logo. You, one day, will have brand recognition, and all that much sooner when your awing tells the story, year after year.
Proven Return on Investment (ROI)
Restaurants or other businesses that want to expand their service area outdoors can create an awning roofing system that is cost effective, code compliant and weather resistant for year round use in many cases. One restaurant in Naples Florida added 15 tables and $575,000 of revenue per year.
Invitation
Nothing says, "we're open and we welcome you," more than an awning with some people partaking of your goodness under it. Make sure to sit people as often as is practical out, under the shade of your awning. Use Facebook and other social media to show off pictures of the nice environment you create. Your covered space can be changed and customized for various reasons and seasons, giving you an inexpensive makeover which you can then promote as a reason for past customers to come back and check it out.
Sell the awning as a value
In your advertising, mention your awning and the happy times that happen under it. Promote the goodness of your atmosphere. If you've got it, flaunt it, as they say. Not everyone is bright enough to have one. Not everyone is bright enough to increase revenue with commercial awnings, either.
Increase property and business value
One day, you may get an offer that you can't refuse and you may move on to the next big thing, or even retire! Maximize your return on your business investment wherever you can. Your commercial awning will add curb-appeal value to your property and to your business. You can increase revenue with commercial awnings and ultimately, because of that increase, increase the price that you sell your business or property for.

If you are a designer, an architect or even a business consultant, keep in mind that a business needs to be profitable at every opportunity. Why not increase revenue with commercial awnings? It is a small investment that can mean a large advantage, ultimately.

Lastly, make sure your awning says what you want it to. As you drive up or drive by, look at it with the eyes of your customers. Is it saying to them what you want it to?
Awning Fabric Samples: