Awning Fabrics
Awnings for Decks – What you need to know
When it comes to awnings for decks, there are a variety of options. But before you install a deck awning, do your research first
---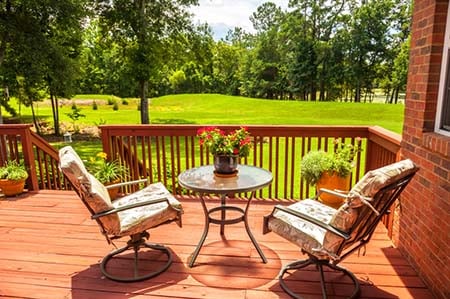 So you have a nice deck; it's beautifully crafted with waterproofed wood and designed to complement your home. In fact, you've got some great furniture out there that your family enjoys. You might even have an awning installed to protect your investment, but if you don't, here are some tips, ideas, and advice on finding the right deck awning for your home.
First, let's talk about the definition of an awning; it is a fabric structure created to keep the sun or rain off of a storefront, window, doorway, or deck. An awning is typically attached to a building's structure as a permanent installation. We often see awnings on commercial buildings and restaurants. Awnings are a great way to extend your living and recreation area.
When it comes to awnings for decks, there are a variety of options. But before you install a deck awning, do your research first, this will help save you in the long run and possibly prevent damage to your home. (Awnings use mounting brackets that are attached to the exterior of your home). Here is a quick run-down of the types of deck awning products on the market:
Retractable Awnings – these can be equipped with sensors that detect the sun and the wind and automatically retract or extend. These can also feature manual or automatic control buttons.
Stationary Awnings – these are fixed in place and can't be retracted but also need less maintenance than a retractable awning.
Freestanding Canopy – these are freestanding and not attached to your home.
Remember, the material you choose for you deck awning is important. There are a variety of fabrics used in awning structures including:
Vinyl Fabric
Solution Dyed Acrylic
Coated Polyester Composite
Laminated Fabric
It's important to also know that the environment you live in may sway the type of fabric you choose. For example, if you live in a humid area, you will want a fabric that is mildew resistant. If you live in a sunny, hot area like Arizona, you will want fade resistant and ultraviolet resistant fabrics.
If you're ready to buy an awning here is a list of questions you should have the answers to before installation:
What are your home's dimensions (roof to floor)?
What's the size of the area you want to protect?
What is the exterior of your home made from?
What direction does your deck area face?
Are there any light fixtures or other obstructions that will hinder the installation of the awning?
What kind of fabric do you want to use?
Once you've done your research it's time to choose a company to help you with your awning needs. Herculite Inc. manufactures a variety of fabric options for awnings, including deck awnings. Herculite also offers custom engineering for your projects. Herculite's® Awning Fabrics employ unique film formulations, adhesive systems and the company's Core Stabilized Process to help provide maximum performance.
Herculite offers vinyl awning fabrics that are:
Fire Resistant
Water Proof
Heat Sealable
Stain and Mildew Resistant
Dimensionally Stable
Scratch Resistant
8-year warranty
American Standard 62" Width
Engineered in America
Herculite also offers a Guide on choosing the ideal fabric by application. For more information visit www.herculite.com today.