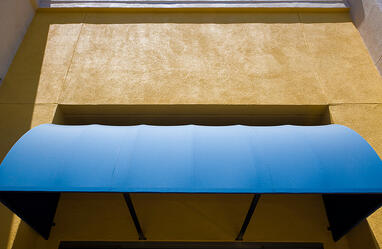 Green, clean energy consumption is a hot topic right now. The possibility of rolling blackouts and high electric bills has many of us wondering, what can we do? The answer is simple, start utilizing awning energy savings to not only enhance your home or business, but also cut your energy bill.
In a 50-city study conducted by the Professional Awning Manufacturers Association, awnings are a "smart retrofit to reduce home energy consumption."
According to the study, awnings work with the air conditioner to reduce the need for additional energy to cool homes. Awnings are more than just shade structures and can save homeowners up to $200 annually by reducing the load on air conditioners.
"For example, the study showed that awnings on a home with single or double glazed windows in Pittsburgh, PA can reduce cooling energy 46-50% in a hot year compared to the same house without awnings," the PAMA study stated. "Correlating cost savings can range from $81 to $102. In a hot city like Phoenix, AZ the net savings was $193 in a typical year."
Almost 20 percent of an air conditioner's load is from sunlight that gets through glass, according to the study. Awnings reduce that load by helping to shield windows from sunlight.
Awnings are energy savers, according to Herculite Inc., which manufactures specialty fabrics for the awning, marine, health, graphics, tent and structure, and performance fabric industries.
In fact, awnings can cool up to 15 degrees and reduce solar heat gain up to 65 percent on south-facing windows and 77 percent on west-facing windows. Also, many awning fabrics don't trap heat and moisture.
Awnings not only reduce energy consumption, they also:
Protect your family from ultraviolet rays.
Expand your living space outdoors.
Protect you interior furnishings from fading and damage.
Protect from rain if you're using a waterproof material.
Add to the aesthetic of your home or business.
Be printed on, come in a variety of colors and styles, and fabrics.
Can be fire retardant.
Can be retractable or stationary.
This simple energy reducing, versatile fabric product is a great way to enhance your home. To learn more about the type of fabric available for awnings visit http://www.herculite.com/blog/topic/Awning-Fabrics.
Herculite Inc. offers its Excel M Series® fabric which is a revolutionary new awning composite textile featuring both flexibility and core fabric stability for architectural awning structures of all sizes.
The Excel M Series® is 100% waterproof, flame retardant to commercial standards, heat and RF sealable, and coated with the new "M Series" Fluoropolymer. This technology textile is well suited for commercial and residential awning structures alike.
It's designed to protect people and furnishings from weather while maintaining an architectural fabric statement of sustainability.
If you're thinking about adding an awning to your home, it's important that you have the right frame, fabric, and design. After all, an investment like this is an investment in not only your family and but your home. Consult with an expert today by getting in touch with your local canvas shop or contacting Herculite Inc. at http://www.herculite.com/contact-us.