Awning Fabrics
Awnings: Protect your Home & Family
Awnings and shade structures can help prevent many problems when it comes to sun exposure and there are many types of awning fabrics to choose from.
---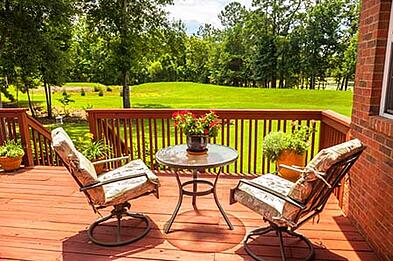 In the summertime, it's sunny. It's also time for barbeques. You've probably got all your bases covered: burgers, hot dogs, buns, drinks, and other tasty treats for your friends and family. But, do you have your backyard covered?
One of the things we often don't think about when we have outdoor or backyard parties and get togethers is the fact that we are out in the sun for hours. What does that mean? Here's a quick list of things to think about:
Exposure to UV Rays
Sun Burns
Dehydration
Furniture damage; cracking and fading of the fabric
Shading for your family, guests, and pets
If you don't already have an awning or other shade structure installed, you might want to consider adding one to your home. Awnings and shade structures can help prevent the above mentioned problems when it comes to sun exposure. For example, if you have a retractable or fixed awning installed, you can shade your family during backyard/outdoor activities, protect them from the sun and also keep your furniture from fading in the sunlight.
Often, we don't think about our backyard furniture and how the sun can damage the fabric. That's why it's important to keep your furniture in the shade in the summer and stored away in the winter/during rainy season.
That being said, it's important to consider the type of awning fabric and structure you want to use. Remember, if you use quality fabric that offers UV ray resistance, mildew and mold resistance, your awning will last. For example, Herculite Inc. offers a line of Awning Fabrics that are core stabilized, fire resistant, UV degradation resistant, and water proof, age, fade, dirt, and mildew resistant.
Awnings, which have been around since ancient Roman times, can help reduce your air conditioning costs! Awnings shade your home and protect it from solar heat gain during the hot summer months which can help reduce your energy bill. Awnings have been proven to have 8 – 15 degrees cooling capability.
Also, remember there are a variety of awning types, shapes, and sizes you can choose from. Awnings can be an aesthetically pleasing addition to your home. Choosing the right one and the right fabric is easy if you've done your research. But here's a quick rundown of the types of fabrics you can choose from for your awning:
Vinyl and Polyester Composite: this is a durable and waterproof choice. The material is light and flexible.
Acrylic: this is more durable than traditional cotton blend canvas. This fabric is a good choice for awnings in humid areas.
Natural Materials: these can be canvas or linen but these are not as durable as acrylic vinyl polyester composites, or vinyl.
So now that you know a little more about awnings and how they can help protect your family and your home, visit us at www.herculite.com and let us know if we can help you.