News
Strataglass Reaches Five Years with No Lost Time Incidents
Herculite Products is proud to announce its Strataglass manufacturing facility has gone five years without a lost-time incident (LTI).
---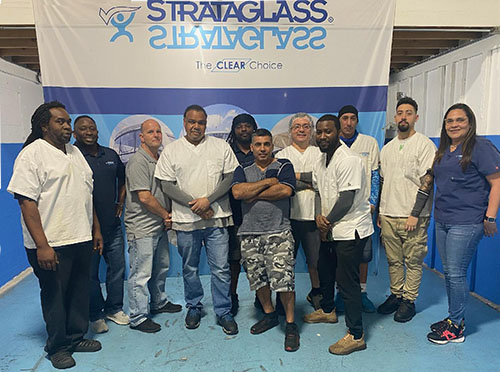 Herculite Products Inc., a leading innovator and manufacturer of high performance and custom fabrics is proud to announce its Strataglass manufacturing facility in Fort Lauderdale, Florida has gone five years without a lost-time incident (LTI).
For Herculite and Strataglass, safety is at the core of our ability to achieve our mission, as success is not just achieving our mission, but achieving it "every day." This is why Strataglass associates understand the need to work safely every time they come to work and to ensure everyone around them does as well.
Vice President of Operations Brian Keeney said: "A culture of safety is a cornerstone of Strataglass, Herculite Products, and Hercon Environmental and I'm proud of every Associate at our Strataglass facility for this amazing achievement. To me, working safely means that everyone went home the same way they came to work…every day! This enables all of us to live our lives to the fullest and enjoy the fruits of our labors. I extend my congratulations to the whole team in Florida."
When asked what this achievement meant to them, longtime Strataglass associates Demond Denmark and Dennis Williams had this to say: "We know that safety is our #1 goal it is our responsibility to hold each other accountable. Accidents are entirely avoidable, and we to work every day with that goal in mind."
Strataglass has been in a leader in embodying the safety message and culture of Herculite, and this achievement is a direct result of that effort. With this culture established, Strataglass associates will continue to set the benchmark of safety for the entire organization and industry to follow.
About Strataglass LLC.
Strataglass, a subsidiary of Herculite Products, is based in Fort Lauderdale, Florida and is the leading manufacturer of premium flexible clear vinyl composite sheets used in the marine industry. The Strataglass brand features VueShield™, a highly engineered scratch resistant coating technology.
About Herculite Products Inc.
Herculite®, Inc. has been an innovative fabric company specializing in high performance laminated and coated fabrics for more than 62 years. As one of the founders of the synthetic fabrics industry, Herculite® pioneered the use of laminated fabrics in many different industries. Today, Herculite Products Inc. provides a vast array of brands, products, marketing, design, manufacturing, consulting, and technical expertise for the benefit of our customers.
For more information, visit www.herculite.com, or contact Herculite customer care at 1-800-772-0036 or customercare@herculite.com.