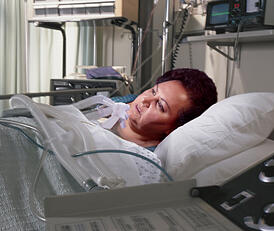 The combination of a good bariatric bed, the proper linens, and the high quality medical fabrics associated with support surface construction, namely the Sure-Chek line from Herculite Products, can prove instrumental to the comfort and recovery of bariatric patients. Sure-Check Healthcare fabrics offer many attributes supportive of the needs and therapy of bariatric patients in your practice. Explore our many products to find the best combination for your bariatric practice.
As medicine focuses on the prevention and treatment of obesity, there is also the issue of providing the best care to the morbidly obese when they receive medical attention. As healthcare facilities continue to care for increased numbers of obese patients, it can become very apparent where they are ill-equipped.
Bariatric beds are one example of how medical equipment has adapted to fit the specific needs of obese patients. The larger design increases the patient's comfort and other features help healthcare personnel with moving and treating patients or residents. These developments reduce the probability of infection and injury and support productive recovery and/or a healthier way-of-life in the case of the long term care resident.
By using bariatric beds with effective linens, your facility can ensure the comfort and recovery of obese patients.
Challenges in Bariatrics
Bariatrics is the branch of medicine addressing obesity. Not only does obesity lead to conditions requiring hospitalization or specialized care inside of a long term are facility, but with continued development of weight loss surgery it is guaranteed health facilities will see more bariatric patents.
One challenge presented in this trend is the load strength of hospital equipment, including and especially beds. Forcing a morbidly obese patient into a normal-sized bed can cause significant injury if the bed breaks from the load or if healthcare staff cannot transfer the patient safely from a bed to another surface. Also, by having mobility limited in a too-small bed, patients are more likely to suffer bed sores and other skin infections. This degree of discomfort can slow or halt recovery from any condition.
How Bariatric Beds Help
Rather than have patients suffer the indignity and discomfort of a normal-sized bed, bariatric beds in your healthcare facility will grant dignity and comfort in addition to assisting medical staff when they move and treat patients. Many advantages make them essential in any bariatric practice.
First, there is the load capacity. This ranges in many models from 600 to 1,000 pounds with special understructure designed to support higher weight.
Second, models offer features that make movement easier for both the patient and healthcare staff. Depending on the model, this may include electronic controls and removable side bars. Some models offer special mattresses with isolated air cushions that can be inflated and deflated to help move patients for treatment or their own comfort.
Finally, the beds are wider so patients themselves can shift positions and ensure their own comfort while resting.
All this helps bariatric patients recover quicker and feel better during hospital stays. Staff can offer better care since the beds' features assist them as well.
Better Beds, Better Linens
Herculite's Sure-Check Healthcare Fabrics make a great addition to bariatric beds. Options are available for top surface, bottom surface and pillow fabrics. Qualities essential for patient comfort include the following:
Thermal Conductivity

. The linens help with the rate of heat from the skin to the surface. By wicking heat from a patient's skin without absorbing too much heat into the surface, the linens keep cool so patients do not overheat.

Antimicrobial Fabric Protection

. Basically an antibiotic quality, this protection prevents the development of bacteria that can cause skin infections and discomfort.

Moisture Control

. The fabrics absorb moisture away from bariatric patients to help them feel dry and comfortable, rather than clammy.

Hypoallergenic

. The lightweight fabrics are tough but designed to not cause irritation or adverse reactions.