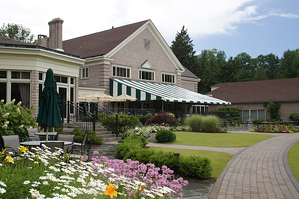 When it comes to awning fabrics, most people don't know where to begin. The considerations are many as are the applications of awnings. When making decisions between what awning fabrics to choose, the considerations involve:
Color, design and color fastness
Style, dimensional stability, framing
Levels of provided protection and fire resistance
Function, durability and longevity
Weather, water and wind resistance
Mold and mildew susceptibility
Environmental sensitivity and awareness
It can be very helpful to understand exactly how to make the smartest choice. Most folks begin by thinking about colors and exterior design and function. With cooling capacities of up to 15 degrees when placed properly, air conditioning costs are reduced by as much as 25 percent. This is due to new vinyl technologies that support its unique ability not to trap heat or moisture.
Well-placed awnings can be a big cost-effective investment when you realize just how much savings are available by prevention of up to 77 percent window heat-gain. Furnishings are also protected from fading and weather damage from window glare or outdoor long-term placement.
Industry Leaders earn Honor from Experience, Delivery and Quality
Herculite is an industry leader. For over 60 years we have eliminated questionable, unwanted additives from our raw material supply chain--long before green was politically correct. We have been reducing our energy footprint and have served to advance the safe technology for lamination and coatings for awning fabrics.
There is no such thing as a stronger vinyl awning fabric on the market today. Six decades is enough time to strengthen, fine-tune and become an environmental leader for quality that delivers cost savings. Choosing your awning fabric means researching to find a company who provides for all of these qualities in a single product. Consider Natura, there is no other high-performance awning fabric that looks and feels so much like a natural, woven material. Our colorfast processes deliver wide-ranges of choice for patterns and hues.
Awning Placements and Design Integration Considerations
Our lamination process is free of harsh solvents potentially harmful to our environment. There are no heavy metals such as lead, mercury, or cadmium in our coatings and there is no costly remediation. Awning owners can testify that placement over windows that typically have intense heat from direct light, do slash their cooling costs, and restaurant's hosting patios and outdoor dining save on furnishing wear and tear.
Vinyls can incorporate anti-microbial properties. This is critical in reducing mold and mildew from growing and spreading on your fabric. Our processes also integrate safe chemicals that prevent fire vulnerability and vinyl is inherently waterproof. Unlike acrylic-based awning fabrics, vinyl production is energy efficient.
Our vinyl process uses 20 percent less energy to produce than most of our competing products. It also uses 50 percent less energy than polyester and 670 percent less energy than PLA which is derived from corn. Vinyl is inherently recyclable.
Vinyl contributes to a smaller carbon footprint because it uses less fuel and emits less CO²than alternatives. Vinyl consumes far less oil than polyethylene, polyester or nylon. It releases lower CO²emissions: vinyl generated 30 percent less CO²than polyethylene, 120 percent less than polyester, and 260 percent less than aluminum.
Popular fabric materials for awnings include cotton, acrylic, and polyester. Vinyl, when stretched over a light metal or other durable frame, will outperform all of these fabric types. Our durability can be especially valuable when using motorized frame retraction, or in areas where there are many storms.