Awning Fabrics
How to Find an Awning That Looks Good and is Durable
Awnings are an integral part of building design, but finding good ones is not always easy. This handy guide is designed to help with that process.
---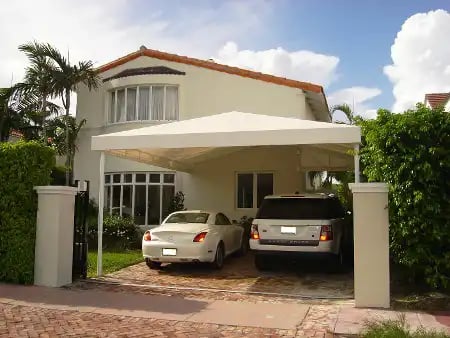 When it comes to finding the right shade structure for your home, business, or restaurant, awnings are an excellent choice. Not only do awnings provide shade, but they can also extend your business' footprint.
Awnings come in a variety of shapes and styles, so when you're looking for an awning, it's important you take the time to do your due diligence and be careful about your research. So how can you find the perfect awning for your outdoor shade structure needs? Here's a quick checklist of things you should consider:
Fabric - There are a variety of textile choices you can use for your awning. Some are created for industrial use, some are for commercial and yet still others are made for residential purposes. That's why it's so important to research what type of fabric you need for your project. Keep in mind, you don't want to use a fabric that's going to breakdown in just a year, you want something that features quality and is also backed by a warranty.
Durability -The durability of an awning is dependent on the strength of its fabric and frame. You don't want to install something that's going to break down in a year, that's why finding the right fabric - one that's colorfast, tear resistant, waterproof, dimensionally stable, stain and mildew resistant, and even scratch resistant is important.
Frame - The frame of an awning can be made of metals like aluminum or from fiberglass or plastics. The frame's durability and quality are essential as it is what holds up the fabric and keeps your customers protected from the sun and from rain.
Cost - It's important to carefully consider the options you have not based on price but on quality and durability. Sometimes, you get what you pay for and that's not a saying for no reason. If you spend very little time (research) and money on something, you might not get what you want. Remember, quality does cost but in the long run you save because you won't have to replace or fix your awning as often.
Style - Awnings come in a variety of styles including:

Retractable - Great for restaurants and businesses who may not need the awning to be up year-round. These awnings can be retracted (rolled away) whenever you want.
Stationary/Fixed

- These are great for areas where sunshine is year-round (think Arizona).

Color: Be sure to use the right color. You want an awning fabric that will not only match your business or restaurant's theme but will also last.

Use: The location of your awning is important. If you're using it to extend your restaurant's dining area, then you need to be sure you're using the right fabric (waterproof, UV ray resistant, etc…) so that the ambiance you create is not just aesthetically pleasing, but functional.
Graphics:

using an awning with graphics is an excellent way to attract clientele and brand your business. Remember, not all awning fabrics are created equally and some are designed

specifically

for graphic/image printing.
Truly, finding an awning that looks good and is durable takes time and effort; you have to find the right fabric and frame, then consider the cost, the look, and style. That being said, talk to your awning provider to see how they can help you in this process. Remember to also ask about the type of fabric being used in your shade structure; not all fabrics are created equally.
There's a lot you'll need to know before selecting your next awning fabric. Download our free guide, "Five Factors to Consider when Determining Awning Quality" to learn more.