Awning Fabrics
Commercial Awnings – Tough, Stylish, and Dependable
Awnings come in a variety of colors, styles, and shapes. They are an extension of a business and provide valuable outdoor space.
---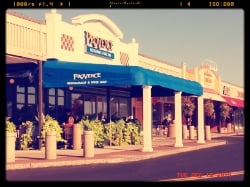 What's a business without some style or pizazz? When we think of businesses, we think of them as separate institutions from our everyday lives. But, the truth of the matter is that businesses are part of our surroundings and our environment.
When you're driving, restaurants, stores, and markets line the streets and freeways. You see colorful signs, differently shaped buildings, and more. One of the things you probably see but don't think about too often is a commercial awning.
Awnings come in a variety of colors, styles, and shapes. They are an extension of a business and provide extra outdoor space and can be manufactured with your company's logo or a specific design. Awnings bring a level of style to your business that can help you stand out from your competition. They also provide shade, protection from the sun's harmful ultraviolet rays, and helps save energy with 8-15 degrees cooling capabilities. Air conditioning savings can add up to almost $200 a year for homeowners with awnings! For businesses, an awning is an investment that can pay you back!
Commercial awnings are made to last; they're tough and dependable and can withstand the elements. With materials that offer moisture and mildew resistance, commercial awnings are made to last. Another thing to keep in mind is that awnings can also help reduce air conditioning costs by up to 25 percent!
Awnings are also made from a variety of materials including vinyl and polyester. Herculite Inc. has an excellent line of awning materials that you can use for your business.
Herculite's awning fabrics include materials that are scratch resistant, fire retardant, waterproof, moisture and stain resistant, and come with a warranty. The materials are durable, dependable, and stylish. Herculite also offers a variety of colors and styles.
For example, Herculite offers its Excel M Series® fabric which is a revolutionary new awning composite textile featuring both flexibility and core fabric stability for architectural awning structures of all sizes.
Herculite also offers the ability to apply graphics and designs to awning fabrics. Just imagine your business with a beautiful company logo or design displayed for customers and the public to see. Commercial awnings are great way to advertise your business without having to buy billboard space.
Remember, commercial awnings can be designed to fit your tastes, needs, and style. They don't have to be your standard/typical shade awning. You can create shade sail awnings or other types of designs for your building. Don't limit yourself when it comes to how you want your business to look.
For more information about awnings visit www.herculite.com.