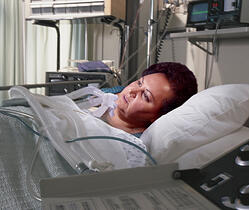 The field of Bariatrics is a growing field in the medical and health care world. Like many health care specializations, it comes with its own unique challenges and demands, which results in specialized equipment needs. How can healthcare fabrics help in this field, and what qualities would make a specialty fabric a good fit for bariatric equipment? We take a quick dive into this field and discuss that and more.
What is Bariatric?
So what does bariatric mean? Bariatric is simply the branch of medicine that deals with the control and treatment of obesity and allied diseases. Today, the United States is at the top of the world's most obese countries. (China was second and India came in third, according to a U.S. News & World Report Health article published May 2014).
Bariatric Treatments
So what does this mean in terms of treatment? Well, $147 billion is spent annually to treat obesity in the United States! According to the U.S. News report, 32.8 percent of the U.S. population is obese. Since 1980, the number of obese people in the world has increased from 857 million in 1980 to 2.1 billion in 2013! (That's a 145 percent increase). Translation, the world needs to go on a diet.
But, all those statistics aside, when it comes to treating bariatric patients, it's important to know that there is equipment out there that is specially designed for weight and size.
Specialized Equipment
This equipment includes but is not limited to:
Seats
Lifting Devices
Heavy Duty Beds
Adjustable Beds
Pressure Mattresses
Bathroom Chairs & Benches
Wheelchairs
Walking Aids
Equipment – like a pressure mattress – is helpful when it comes to the bariatric patient's comfort. Pressure mattresses help prevent bed sores (pressure ulcers) by dispersing pressure or weight. These bariatric beds are also designed to take a heavier load. Most bariatric equipment is designed to take more weight and are larger than typical hospital equipment.
The design and manufacture of bariatric equipment uses the same type of materials as any other medical equipment except that they are larger. This brings us to an important point about medical equipment in general; the fabric that is used to make them.
Bariatric medical equipment uses antimicrobial fabrics, vinyl, polyesters, and other specially designed textiles to help ensure patient comfort and care. That's why it's really important to know what fabric is being used for your medical equipment. Antimicrobial fabrics are an excellent choice because they help prevent infections; this is especially useful for medical mattresses and pads used at home or in the hospital.
At Herculite Inc., medical fabrics are one of its specialties. Herculite offers its line of Sure-Chek® brand medical fabrics, which are the original healthcare fabrics that were patented for use as protective covering fabrics and today are the standard in the industry. Sure-Chek® medical fabrics were developed in cooperation with healthcare professionals to provide fabrics that are comfortable, safe and effective for use in healthcare facilities, prison industries, jails, camps, and dormitories. These thermoplastic fabric composites are strong, durable, antimicrobial, antistatic, flame resistant, stain, odor, fluid resistant, and resistant to popular disinfectants when used as directed.
So the next time you start looking for the right medical equipment, whether for a bariatric, elderly, or young patient, remember to do your due diligence. Find a manufacturer that uses good quality specialty medical fabrics today. If you would like more information about medical fabrics visit us at www.herculite.com.