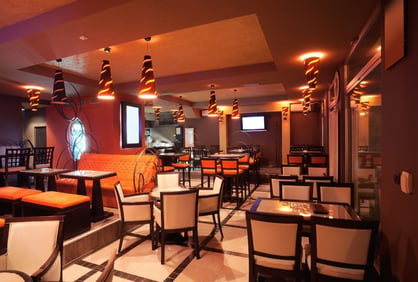 For architects and property owners drawing plans and overseeing build-outs, prioritizing energy efficiency for restaurants can help keep operational costs down for restaurateurs. There's a lot you can do to improve efficiency with little overhead cost and minimal disruption, too. Here are some of our favorite suggestions for a greener and leaner restaurant:
Lights and waste. Lighting alone makes up a big chunk of electrical use in restaurants. Kitchens waste hundreds of dollars annually by leaving lights on where no one is working. Get in the habit of turning off lights when you leave a room. Also, during down time, turn off appliances you aren't using — including fryers and your range — and shut down lights in rooms you aren't in.
Another quick and easy solution for reducing electrical costs: update your lightbulbs. Modern halogen incandescents, CFLs, and LED light bulbs use far less energy than traditional bulbs, and they produce ultra clean, bright light as well.
Smarter outdoor spaces. People love eating al fresco, but most customers aren't willing to sacrifice the comforts of indoor dining to do it. Many restaurants install propane heaters to warm up outdoor spaces during cooler months and at night. Smarter designs are available on patios to help keep customers warm (or cool!) using advanced flexible PVC and vinyl textiles, each custom designed for your particular needs.
Clear roll-down vinyl curtains present one solution for keeping patio spaces warm when temperatures drop. High quality vinyl traps heat from the sun and/or heaters without obscuring views of the surrounding area.
Alternately, overhead awnings and patio umbrellas can make outdoor spaces more comfortable during warmer months. Properly shielding windows from the sun can reduce indoor temperatures by 8-15 degrees, which means you use less electricity cooling the front of house. Passive heating and cooling techniques don't require resources to keep them running (and they look great as well!)
Stick to the law. Mandatory water temperatures for dishwashers, for example, vary from city to city. Check your local regulations and compare them to your target dishwasher temperature---chances are, you are heating your water more than necessary. Webstaurant Store notes that regulations usually stipulate water temps of 140 degrees or more in dishwashers. Set your water heater to meet these expectations, not exceed them. If your model is washing dishes at 150 degrees (or more!) you are spending more per wash than you need to.
Invest in energy-saving equipment. Replacing outdated equipment seems costly, but it can lead to major savings over time. According to Rewards Network, ovens and other large appliances can save restaurateurs between 10 and 70 percent on energy costs. Heating, ventilation, and air conditioning systems use up to one-third of power in a kitchen — replacing them with modern energy-efficient models can make a huge difference.
Get everyone on board. Emphasize the importance of reducing your energy use with your employees. Smarter appliances and design features are well and good, but without the support of staff, you're never maximizing your savings. A lot of people are genuinely concerned about the environment and happy to get on board — give them the resources and opportunity to help make a difference!
Money is tight in the food industry. Thankfully, small changes to the way you do business can make a big difference. Little things like unplugging mixers and shutting off lights can save enough over time to lead to bigger capital upgrades like new appliances and more.
Are awnings actually effective at reducing energy usage? Get the answers in our new eBook: Do Energy Efficient Awnings Really Work? The Science Explained.