Antimicrobial Fabrics
Does Sure-Chek Antimicrobial Mattress Fabric Really Work?
Sure-Chek™ incorporates an antimicrobial additive that is slowly released to the surface for the life of the fabric.
---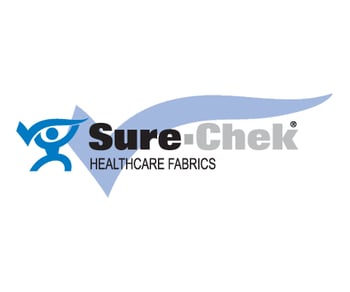 The state of our economy has presented a dilemma to business-owners that is both a challenge and an opportunity. Today the challenge for any business owner is to reconcile investment expenditures with the desire to maintain efficiency and financial solvency. Without investment into new technologies and new products, businesses quickly become redundant as competitors forge new market niches and capitalize on rival weaknesses, in an economy where ingenuity and cost-efficiency are valued above all else. On the other hand, a business cannot invest a percentage of capital so large in technology and product investments that the day to day cost of doing business is restricted.
As a member of the business community, you understand the importance of new and innovative products. One such product that can be implemented in a wide range of industries is antimicrobial mattress fabric. Although this type of product has a wide range of potential uses, its primary use is in medical fabrics in hospitals and other healthcare settings. Antimicrobial fabrics are used in medical settings, such as hospitals, to ensure that patients who require overnight stays or extended hospitalization are treated in a clean and hygienic environment, free from germs, bacteria, and other organic sources of contamination that may affect the outcome of their treatment.
If you work in an industry where a fabric of this nature is potentially something you would consider implementing in your own business, it is important to understand what you should expect from quality medical fabrics. Antimicrobial mattress fabrics should incorporate a variety of features and qualities to ensure maximum effectiveness.
Industry leading brands such as Herculite's Sure-Chek™ mattress fabric are flame resistant, thermally conductive to ensure patient comfort, and fluid, moisture, and stain resistant to most medications, oils, greases, and contaminants. Furthermore, the Sure-Chek™ mattress fabric is hypoallergenic and ensures that patients can be treated in a safe and comfortable manner consistent with the high standards put in place by healthcare experts.
One of the reasons that the Sure-Chek™ brand has been a market leader in the antimicrobial fabric industry for so long is the attention to detail present in the design of the fabric. In addition to the qualities listed above, Sure-Chek™ fabric is hypoallergenic to minimize irritation and adverse skin conditions; anti-static, to prevent the retention of static electricity that could potentially interfere with sensitive medical monitoring systems; electrically conductive, to control electrostatic discharge and the disruption of patient monitoring systems; odor resistant; and durable, providing you with a long-lasting and cost-effective product. Furthermore, Sure-Chek™ can be manufactured in phthalate free versions, is free of heavy metals such as lead and chromium, is manufactured with a textile to provide high tear strength and durability, and is specifically engineered for maximum elasticity so that patients requiring pressure reduction mattresses can be treated without requiring the purchase of separate and more expensive mattress variants.
One of the primary reasons that Sure-Chek™ is so effective is that it incorporates an antimicrobial additive that is slowly released to the surface for the life of the fabric. Medical fabrics should reduce undesirable microbes and reduce mattress odor—Sure-Chek™ exceeds industry standards and ensures that the patient receives the most hygienic treatment possible—while you receive a product that is cost-effective and durable.
Antimicrobial mattress fabric has a wide range of uses, both in healthcare and a variety of other industries. In researching the purchase of such a product, it is imperative to ensure that your choice incorporates all of the characteristics listed above, to ensure maximum satisfaction and effectiveness.