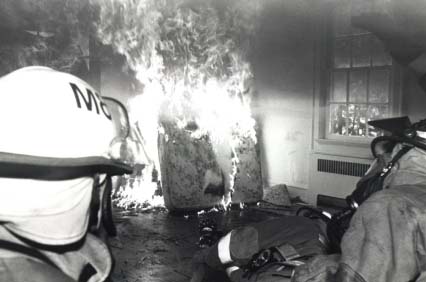 Let's take a look at inherently fire resistant fabrics. Before we get started, it's important to note that no fabric is actually fireproof; given enough time, they will burn. That being said, there are some fabrics out there that resist fire more than others. For example, we all know that cotton burns easily and rapidly. However, fabrics like wool and Kevlar resist flames inherently because of the structure of the fiber. A tightly woven wool fabric will take longer to burn than cotton or linen.
Inherent vs. Treated
The first thing you should know about fire retardant fabrics is that there are two main types: Inherently or Chemically Treated. Basically, a fabric is inherently or chemically flame retardant and this really matters when it comes to what you're using the fabric for and how long you want it to last. Over time you can wash out chemicals but if you take care of your fabric, it can last a long, long time. Remember, some fabrics are also just naturally more resistant to catching fire than others. Like tightly woven wool takes longer to burn than cotton.
Inherently fire retardant fabrics are excellent for use in your home, especially for things like curtains and drapes. (This is one way to protect your home and your family from not only fire, but chemically treated materials). These fabrics can also be used in tents, health care fabrics, drapes, tarps, military applications, awnings, banners, and signs.
Finding the right manufacturer for your fire retardant project/product is essential; especially when considering chemically treated fire retardant fabrics. That's why Herculite Inc. offers customers a variety of products that are not only fire retardant, but meets the National Fire Protection Association standards.
The NFPA is the world's leading advocate of fire prevention and an authoritative source on public safety, NFPA develops, publishes, and disseminates more than 300 consensus codes and standards
The application for flame retardant fabrics are far reaching. For example Herculite Inc. offers the Sure-Chek® high performance fire barrier fabric. The Sure-Chek® fire barrier fabric is flame resistant and self-extinguishing when a source flame is removed. These products are manufactured and tested in accordance with accepted industry standards.
Additionally, Herculite offers an ultra-high fire barrier fabric Sure-Chek® Blaze Blocker HP, an open-flame barrier fabric. This inner liner fabric enables mattresses to pass the California Technical Bulletin 129, Boston Fire Code 9-XII (full scale open flame, complete mattress burn tests). Sure-Chek® Blaze Blocker HP also passes California Technical Bulletin 133 (full-scale open flame, complete chair burn test).
Herculite's awning composite textiles are also excellent examples of an inherently flame [C1] retardant fabric (PVC composite) that has practical uses. Some municipalities will mandate fire-resistant awning fabrics, and checking ahead of time will reduce potential project delays down the road.
So what are chemically treated fire retardant fabrics?
Well, they are fabrics that have been coated with a fire resistant chemical. Today, there are more than 175 different types of flame retardants, according to the International Association of Certified Home Inspectors (InterNACHI). These types of chemicals are divided into classes including: brominated, chlorinated, phosphorus-containing, nitrogen-containing, and inorganic flame retardants. Flame retardant chemicals are also known as PBDE's or polybrominated diphenyl ethers.
Keep in mind that PBDEs are a chemical and you might have questions about its safety. Visit the Center for Disease Control's Agency for Toxic Substances and Disease Registry's Web site for more information at: http://www.atsdr.cdc.gov/toxfaqs/tf.asp?id=900&tid=183
Should you buy a treated fabric, remember, as you wash it and use it the chemical starts to wear down. Inherently fire retardant fabrics don't suffer from this issue. You may also consider that adding a FR treatment to a fabric may void the manufacturers warranty.
So, when considering buying a flame retardant fabric, whether inherently or chemically treated, remember to choose the right manufacturer – like Herculite Inc. – who understands the importance of quality and safety.

Now that you know a little bit more about flame retardant fabrics, download our free guide, "Five Factors to Consider When Determining Awning Fabric Quality"