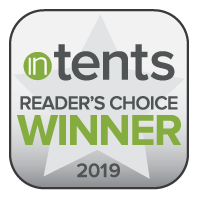 Herculite, Inc., a leading provider of flexible composite textiles, has been selected by the readers of InTents magazine as the industry's "best tent fabric supplier."
InTents magazine, the official publication of the Tent Rental Division of the Industrial Fabrics Association International (IFAI), conducts its Reader's Choice Award annually, asking its readers to vote for the best of the best in 15 categories, ranging from Best Tent Manufacturer to Best Rental Software.
"Once again, participation in our Reader's Choice Awards was truly impressive," said Mark Berriman, IFAI national sales manager. "So many companies were nominated within the 15 categories that it really highlights the amazing work taking place within this industry."
Herculite offers a full line of tent and structure fabrics under its Architent brand, serving tent manufacturers and tent rental companies nationwide. Herculite's Architent brand is recognized for beautiful aesthetics as well as exceptional durability, wide range of colors and easy care under the most demanding conditions.
"We are gratified to receive the InTents Reader's Choice Award because it represents a vote of confidence in our Architent brand by tent makers and rental companies," said Jeff Sparks, sales director for performance, custom, tent and structure fabrics with Herculite. "Our success in the tent industry is the result of our dedicated manufacturing and customer service teams in Pennsylvania along with our loyal customers who partner with us in providing responsive customer service and continual innovations in our fabrics."
Headquartered in Emigsville, Pennsylvania, Herculite, Inc. is an innovative company that has specialized in high performance flexible composite textiles for more than 60 years. Herculite supports a variety of performance markets, including awning, marine, healthcare, digital media, tents, structures and other technical applications.