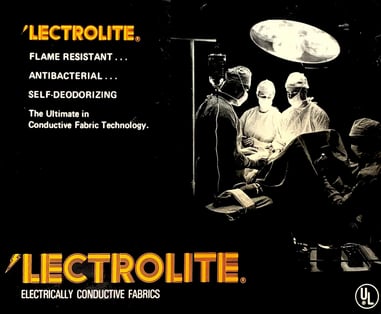 Herculite Inc. is a trusted specialty fabric company whose medical textiles set the standard in the industry. Herculite's Sure-Chek® brand healthcare fabrics are the original textiles that were patented for use as protective coverings.
Sure-Chek was developed in cooperation with healthcare professionals whose opinions and guidance helped create the company's comfortable, safe, and effective medical textiles. Originally, Sure-Chek was known as Staph-Chek® but was later renamed to its current title.
Sure-Check Medical Textiles
Today, Sure-Chek is the standard in the industry. Designers and engineers can trust the Sure-Chek brand to be used in the hospital setting because the fabric was specially designed for the healthcare industry. In fact, companies like Tridien Medical trust and use Herculite's medical textiles. Since 2014, Herculite has achieved greater than 99 percent quality compliance for its products.
Herculilte continues to improve and be innovative in its medical textile development. The Sure-Chek brand of medical textiles are strong, durable, antimicrobial, antistatic, flame resistant, stain, odor, and fluid resistant. The fabrics utilize a controlled release system. The system allows the slow release of a specially formulated antimicrobial system to the fabric surface, lasting the life of the textile. Through ongoing research, Herculite has successfully advanced the technology to incorporate other materials and innovative process technologies. Herculite also offers custom engineered products and can work with clients who have special healthcare fabric projects.
But before continuing, let's define what antimicrobial means. According to Michigan State University's Antimicrobial Resistance Learning Site:
"The word antimicrobial was derived from the Greek words anti (against), mikros (little) and bios (life) and refers to all agents that act against microbial organisms. This is not synonymous with antibiotics, a similar term derived from the Greek word anti (against) and biotikos (concerning life)...the term 'antimicrobials' include all agents that act against all types of microorganisms – bacteria (antibacterial), viruses (antiviral), fungi (antifungal) and protozoa (antiprotozoal)."
Herculite's medical textiles do exactly what the definition describes. The antimicrobial agents in Herculite's medical textiles "act against microbial organisms" To protect the fabric surface. Herculite's medical textiles also phthalate free options available, electrically conductive, hypoallergenic, stain resistant, thermally conductive, and flame resistant. Thus, Sure-Chek medical textiles can be employed in the hospital setting with confidence in a variety of uses including:
Mattresses

Bedding

Privacy Curtains

Pillows

Fire Barriers

Shower Curtains

And more
The use of high quality medical textiles is important when producing medical equipment. Medical textiles are an essential part of not just the hospital room, but of other medical devices like electrode patches used on an echocardiogram machine, or think of the fabric used in a blood pressure monitor, the list goes on and on. For medical equipment manufacturers finding a medical textile company that understands the nuances of the healthcare industry and can provide excellent customer service and high quality fabrics is essential. After all, medical equipment is designed to withstand the rigors and demands of the healthcare environment and the fabric components should be up to par.
Herculite's innovative, industry standard setting medical textiles are also backed by the company's customer service and quality assurance programs. Herculite is ISO 9001 certified which means the company documents its quality management system from start to finish, includes a customer satisfaction tracking system, and has methods to identify non-conformance of the standards and a means to control and mitigate occurrences.
Keep in mind, that Herculite also provides excellent customer service and ensures your questions are answered. The team of Herculite professionals are willing, ready, and waiting for your inquiries and happy to help. Even if there's an issue or something that needs to be addressed with care, Herculite's team members are there to assist. Herculite prides itself on providing excellent customer service. That's why Herculite offers a custom engineering service for customers who need something that goes beyond the standard specialty fabric.
For more than 60 years Herculite has been servicing the specialty fabrics industry and provides a variety of textiles for multiple industries. Herculite's knowledge base, innovative products, excellent customer service, and ability to understand the needs of its clients, sets the company apart from the competition. Herculite's experience and proven results have earned the business its place as one of America's most trusted medical textile companies.
Interested in learning even more about Herculite's medical textiles? Download our free eBook, "Why Herculite is Uniquely Qualified to Deliver Quality Medical Fabrics" today.