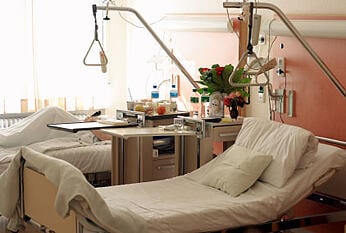 Air mattresses are often viewed as the convenient guest bed in storage that comes in handy during the holidays. However, air mattresses are used for more than just the occasional guest. In the medical mattress industry, alternating pressure air mattresses (APAMs) are used in hospitals or for in-home patient care to help prevent bed sores.
Bed Sore Prevention
Before we discuss air mattresses in the medical industry, we first need to understand how bed sores occur in the first place. So what is a bed sore? Sometimes referred to as pressure ulcers or pressure sores, a bed sore is damage or injury to the skin and the underlying tissue after prolonged pressure. These sores are most often seen on skin that covers the bony areas of the body, according to the Mayo Clinic, a nonprofit worldwide leader in medical care, research and education. Bed sores occur in stages and, if left untreated can result in deep tissue injury.
Prevention of bed sores is important and there are several measures patients confined to bed can take to avoid them according to the Mayo Clinic:
Reposition yourself frequently.
Look into devices to help you reposition. Use things like a trapeze bar or have a caregiver help you.
Try a specialized mattress. Use special cushions, a foam mattress pad, an air-filled mattress or a water-filled mattress to help with positioning, relieving pressure and protecting vulnerable areas.
Adjust the elevation of your bed.
Use cushions to protect bony areas.
APAM - Alternating Pressure Air Mattresses
Now that we know what a bed sore is and how to prevent them, let's talk about alternating pressure air mattresses. APAMs are placed on top of a regular bed and have air-filled channels that alternately fill and empty to help keep pressure or weight off of bony areas of patients who are too weak or otherwise immobilized to shift their weight on their own and thus helping to prevent the development of bed sores.
APAMs are made from nylon, vinyl, thermal polyurethane, and other specialty fabrics. If you're considering purchasing an APAM it is important to remember that they're not all the same. Some have covers, some don't; some come as a pump and pad, while others can come as a foam mattress.
Features can also vary on APAMs. Here are some features you should consider when purchasing an APAM:
Antimicrobial
Flame Resistant
Thermal Conductivity
Fluid Resistance & Moisture Vapor Transmission
Stain Resistant
Hypoallergenic
Conductive
Strong & Durable
Elasticity for Pressure Management
Odor Resistance
Phthalate Free
So where can you find an APAM that has ALL of these features? Herculite Inc. offers its line of healthcare fabrics that can be used in the production of APAMs and includes all of the above mentioned features! Herculite's Sure-Chek® brand medical fabrics are enhanced by a specially formulated antimicrobial system which lasts for the life of the medical fabric. Hereculite's healthcare fabrics can be used for a variety of medical specialty fabric needs including: APAMs, top and bottom surface fabrics, fire barrier fabrics, pillow fabrics, conductive fabrics, and shower and cubicle curtains. For more information about Herculite's Sure-Chek® fabrics visit http://www.herculite.com/healthcare-fabrics.