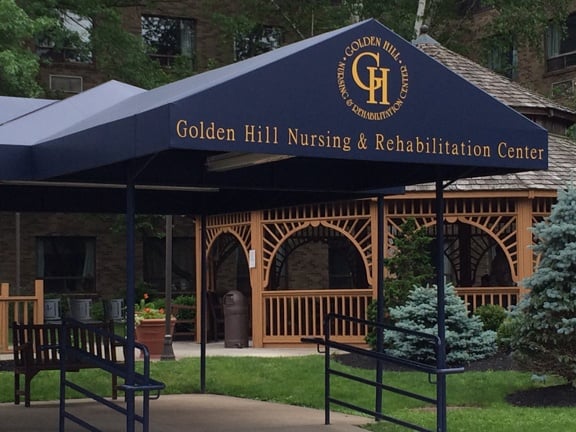 Awnings come in a variety of shapes and sizes and often, different colors, designs, and materials. The most important component of the shade structure is arguably the fabric. When it comes to an awning design, choosing the right awning material is crucial.
Awning fabrics vary and can be made of:
Polyester Composite

Acrylic

Canvas

PVC (Vinyl)

Fiberglass

And other Natural Fibers
Once the type of awning fabric is chosen, it's important to remember that not all companies provide the same type and quality of textile. Choosing the right awning material supplier involves doing some research. For example, an awning fabric should include features like fire resistance, UV ray resistance, mold and mildew resistance, be waterproof and more.
The fabric you choose should also come with a warranty and be easy to clean and care for so that your awning installation will be worry-free. Remember, the textile you use has to last and using quality, durable awning fabrics helps ensure your shade structure will stand the test of time.
While it may seem like a simple thing - choosing an awning fabric - it's much more complicated than just picking a color. If you're designing a building that incorporates an awning, you have to think about the type of textile you're going to use in terms of:
Color

Durability

Style (Scalloped, Straight, Convexed, etc…)

Accents (Speared Awnings)

Fabric Weight - you don't want too heavy of a textile or too light.

Fabric Dimensions
That's why it's so important to choose the right awning material supplier. You want to be aware aware of the types of fabric and colors they have. You want to know that your supplier has a variety of weights, styles, and colors that are durable and aesthetically pleasing. After all, the last thing you want is to install an awning with a mismatched, strange looking fabric color.
That's why it's important for your supplier to be able to easily provide you with samples and work with you. You want to be able to flip through a book of awning fabrics that you can see and feel. This will help in your process and allow you to visualize what the awning will look like against the backdrop of your beautifully designed building. Your supplier should be able to assist you in your search for the right fabric for your project; Herculite Inc. can do exactly that.
Herculite's awning fabrics include a line of products like its Excel M Series or Vanguard awning textiles. Herculite's awning fabrics are fire resistant, waterproof, scratch resistant, mold and mildew resistant, and more. Also, many of Herculite's awning fabrics are backed by an 8-year warranty. The awning materials that Herculite has to offer will leave you satisfied.
Now that you know a little more about awning fabrics, download our free guide, "Five Factors to Consider when Determining Awning Quality"