Awning Fabrics
Architect Checklist: What to Look for in High Quality Awning Fabrics
When it comes to determining the quality of awning fabrics, there are a few key factors to consider.
---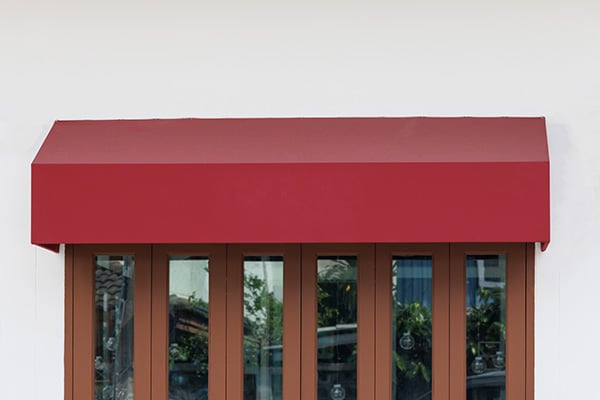 Awnings can be a tremendous addition to any architectural project, either residential or commercial. Outdoor awnings enhance aesthetic value and help save energy by reducing air conditioning costs. Installing awnings over windows has proven to be one of the most effective ways to maintain cooler temperatures inside a home
In addition to the cooling effect they offer,awnings also offer protection from damaging ultraviolet rays. This can help you preserve furniture and other interior elements, preventing them from fading or other sun-related damages.
If you're in the market for awning fabric, it's important to know what to look for.Awnings are typically made from specialty fabrics like polyester, vinyl, acrylic, PVC coated mesh, or some type of composite. However, different types of fabric have different qualities. That's why we've created this checklist of qualities you should keep in mind when shopping for high quality awning fabric.
Fade resistance — Quality awning fabric should be fade resistant in order to withstand continual exposure to the elements.

Weather resistance

— Awnings are exterior shade items and one of the key qualities to look for in any outdoor fabric is weather resistance.
Breathable — Breath-ability is another key factor when it comes to awning fabric. Fabric for outdoor use should be durable but also tensile with good breath-ability.
Water resistance — High quality awning fabric should be water resistant in order to prevent mildew or mold growth and moisture build up.
Easily Cleanable — Like any outdoor element, awning fabric needs to be cleaned on a regular basis in order to be preserved. That's why it's important to find material that can be easily cleaned using a mild cleanser that will remove stains without wearing on the fabric.
Fire resistance — Awning fabric should either be fire resistant, or safe for use with fire retardant treatments. Either way, high quality awning fabric should meet state fire marshal's minimum requirements.
UV resistance — One of the key advantages to outdoor awnings is the protection from the sun they offer. That's why it is absolutely key to find awning fabric with good UV resistance.
Aesthetic value — Beyond their functionality, outdoor awnings are a style item that can increase the aesthetic and resale value of any property. Beyond looking for high quality awning fabric that will be weather and fade resistant, it's important that you also choose patterns and colors that will enhance and compliment the appearance of the property.
Conclusion
While most people associate awnings with summertime, they are great for outdoor use all year round. Having exterior awnings can extend living space even in winter, providing protection for enjoying a hot cup of coffee or tea outdoors. That's why, like tent fabric and other materials designated for outdoor use, awning fabric must above all be resistant to all weather conditions from the blazing sun to the pouring rain.
]Herculite offers a wide range of high quality awning fabrics that are aesthetically pleasing, easy to clean and will offer protection from the elements.
If you'd like information about Herculite's line of specialty fabrics and awning fabrics, pay us a visit at http://www.herculite.com. Or feel free to call us if you would like more information about our products and services at 800-772-0036.You can also download our free guide, "Five Factors to Consider when Determining Awning Quality" to learn more.