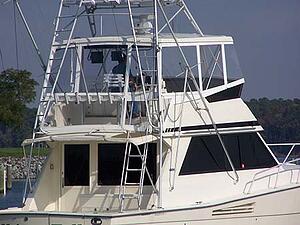 A boat is more than just a pleasure craft; it's an investment that your family enjoys at every opportunity. Protecting your family and your boat is a top priority, that's why it's important to understand what types of flybridge enclosures and fabrics are best for your needs. While not as flexible as something like a bimini or t-top, a marine enclosure will provide an advanced level of protection from the elements.
Marine Enclosures Explained
First, let's take a look at enclosure curtains and how they can work for you. Panels can be added to hard or soft-top structures using either Keder, fasteners, or zippers. These panels literally enclose around you, creating an area that is protected from the sun and rain on all sides. They aren't like Bimini tops, which are open-front. Dodgers are also different; they don't offer full protection from the rain, sun, or wind because they have an opening at the back and are designed to protect from the front and sides.
Enclosures protect all around. Adding an enclosure to your boat is simple. Just call your trusted local canvas shop or contact Herculite Inc.; we can help you find the right fabric for your enclosure. Remember, custom engineering your enclosure panels is a great way to ensure they not only fit your boat's specifications but they also match your style and taste.
Types of Enclosure Fabrics
Much like choices for marine covers, enclosure panels come in a variety of fabric options. Here's a quick rundown:
Vinyl and Polyester Composite
This is an excellent combination that provides flexibility in the fabric. The composite can stay tight on the frame and provides waterproof and mildew resistance. Herculite Inc. offers this composite fabric in two fabrics: Riviera and Regatta. See below for more technical details on this quality product.
Clear Vinyl
This is a popular, common option that is affordable. The material is flexible and soft and can be rolled up when not in use. The material can also be made scratch-resistant with special coating. This is a great option for a low budget. Just keep in mind that clear vinyl can get creased, scratches easily, and can get dingy faster than other materials. Taking care of the clear vinyl by carefully rolling and storing it will help make it last.
Pressed Polished Vinyl
A pressed polished vinyl like Strataglass or Crystal Clear will provide advanced clarity and durability over the cheaper clear rolled vinyl while maintaining the flexibility that something like polycarbonite or acrylic lack. Pressed polished vinyl is also far easier to handle and use, given you the perfect combination of clarity, durability, and flexibility.
Polycarbonate
This is also a clear plastic however it is semi-rigid and nearly unbreakable. Visibility is clearer with this fabric and it can also be coated with scratch and UV resistant chemicals. Polycarbonate isn't soft like clear vinyl so it can't be rolled up. However, it can still be removed if you unzip it from your boat. This option is nice if you don't mind spending the extra money.
Acrylic
This material is also semi-rigid and it is naturally ultra violet ray resistant. Acrylic is also clear and offers great visibility day or night. The material is strong and it's not easy to break. The best thing about this option is that scratches can be removed with buffing. However, keep in mind, this material can't be rolled up and isn't very scratch resistant and can be costly.
So now that you have a list of options, where can you find the right enclosure fabric for your needs? It's just a click away! Herculite Inc. offers a line of quality marine fabrics that can be made into a variety of marine covers including enclosures.
Herculite's Riviera Marine Fabric and Regatta Marine Fabric are excellent choices for your enclosure panels. The products are made from a vinyl/polyester composite and offer mildew and UV resistance, are waterproof, lightweight, and can be heat, cold, and abrasion resistant. The Regatta fabric is also coated with the Rain Kleen® finish on the weather side which provides ease of cleaning, prolongs the life of the boat fabric and adds to the pleasing appearance of the surface. Best of all both of the products come with a limited warranty.
Visit www.herculite.com/Marine for more information.