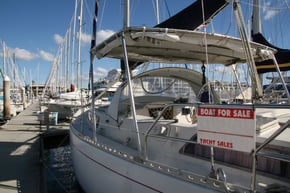 If you own a boat then you know there's more to it than just enjoying the pleasures of sailing the deep blue sea. Boats require care, maintenance, and attention to detail, especially when it comes to what kind of fabrics you use for covers, onboard furniture, and Bimini tops.
Not every fabric is the same. Some resist the elements more than others. Some are naturally resistant and some are synthetic or chemically coated to resist the harsh environment of the great outdoors. When it comes to marine fabrics, there are a variety of fabrics you can use including cottons, vinyl, acrylic, and polyester materials. Here's a quick list of the types of marine fabrics you can use and the element resisting qualities they feature:
Expanded Vinyl: This material (also known as PVC - polyvinyl chloride) is very commonly used in marine fabric upholstery. The material is great because it resists mildew, mold, and can be coated with anti-microbial chemicals. It's a cost-effective choice for marine fabrics.
Vinyl and Polyester Composite: The composite fabric can stay tight on the frame and provides waterproof and mildew resistance as well. Herculite Inc. offers this composite fabric in two choices: Riviera and Regatta. These materials are UV ray resistant, waterproof and fire resistant.
Polypropylene: This material, also known as polyolefin, is odor and stain resistant, and offers high wicking properties.
Acrylic: This material is naturally ultra violet ray resistant. It is also mildew, moth, oil, and chemical resistant.
Choosing the right marine fabric for your watercraft does require some research and thought. You have to keep in mind several factors including:
Do you sail on salt or fresh water? Depending on your answer, you'll want to choose a fabric that can withstand the harsh elements of the sea or the smoother waters of a lake or other freshwater locations.
How often do you sail? If you use your boat often, then choosing a more expensive and more durable and long-lasting material might be worthwhile. However, if you don't sail that often, then finding a boat cover that offers breathability, is UV ray resistant, mildew, odor, and stain resistant is important since you're craft will be in storage for long periods of time.
Do you plan to clean your boat often? Let's be honest, we don't all have the time to spray down and wash our boats weekly or even every few weeks. If this is the case for you, then you want to use a fabric that is water resistant and offers easy cleaning properties.
When finding the right marine fabric, look for the above mentioned qualities. Remember, some fabric manufacturers and suppliers offer excellent warranties and features. For example, Herculite Inc. offers a great 5 year limited warranty on some of its Marine Fabric products which helps give customers peace of mind. Herculite's Riviera Marine Fabric is an excellent choice for boat owners. The material is lightweight, uses environmentally friendly coating, is, easy to clean and maintain, mildew resistant, colorfast & waterproof, is also UV ray resistant, and comes with a five year limited warranty. For more information about Herculite's element resistant marine fabrics, visit www.herculite.com/marine-fabrics.