Marine Fabrics
Comparing Vinyl Marine Fabric and Woven Acrylic Fabric
Both vinyl and woven acrylic marine fabrics offer advantages for different watercraft needs. Compare their respective strengths and weaknesses.
---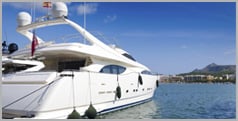 Marine fabrics for boats come in a variety of types and feature a myriad of options. Two popular types of textiles used in marine fabrics are vinyl and woven acrylic.
First, let's define what vinyl and woven acrylics are:
Polyvinyl chloride

- commonly referred to as

PVC

or

Vinyl

- is

defined as

a "synthetic thermoplastic material made by polymerizing vinyl chloride," with properties that vary depending on the "added plasticizer." Flexible forms of PVC are used in "hosepipes, insulation, shoes, garments" and rigid PVC is used for "moulded articles." Keep in mind that PVC is considered a specialty textile.

Woven Acrylic

- first, it's important to note that acrylic is a synthetic fiber made from a polymer called polyacrylonitrile. The textile is lightweight, warm, and can be made to imitate other fabrics like cotton. Woven acrylic is a fabric created from these fibers to form a textile used for multiple purposes including boat covers and sails.
Acrylic and polyester are the most popular synthetic textiles used in the creation of yacht fabric. Vinyl is used in combination with polyester fibers to create a stronger and more durable boat fabric known as a vinyl coated polyester composite. The vinyl polyester composite can be coated for water resistance and more. Using synthetic fibers like acrylic and vinyl increases the longevity of the textile. Often, natural fibers tend to fade and break down faster than synthetics.
Now that you have a better understanding of what acrylic and vinyl fabrics are, let's dive into how they compare in the marine textile setting.
Vinyl Coated Polyester Composite

Solution Dyed & Woven Acrylic

Woven in their standard color.

Desired colors are applied using a coating substance.

Soft and supple for ease of use in boat tops like biminis.

Excellent resistance to mold, mildew, insects, chemicals, moisture, and oils.

Antimicrobial.

Low absorbency.

Excellent abrasion resistance.

High strength.

Available in a variety of textures.

Durable.

Excellent UV ray resistant.

Breathable.

Moderate chemical resistance.

Wrinkle and shrink resistant.

Quick drying.

Moisture wicking

Durable.

Mildew and insect resistant.

Soil and oil resistant.

Moderate Softness.

Easy to clean.

Good UV ray resistance.
Clearly, both vinyl coated polyester composites and woven acrylics offer necessary features for marine fabric use. Of course there are some drawbacks to both, but depending on what you want and need for your project, either one can be appropriately used.
If you're looking for yacht fabric, you might want to consider using a vinyl laminated/coated polyester composite like Herculite Inc.'s Regatta product. Regatta is treated with Rain Kleen for water resistance. This coating helps prolong the life of the textile and offers superior color retention. The lightweight vinyl laminated polyester fabric is soft, but resistant to extreme temperature (hot and cold) and abrasions. The fabric will stay tight on the frame and is manufactured wrinkle free.
When selecting a textile for your boat cover or boat fabric, choosing between vinyl and acrylic can be challenging. With the significant advances in marine fabrics made in recent years, the options now available to you are both visually appealing and high quality. Investing in a fabric means taking the time to understand what's best for your vessel, so choose a fabric that's going to stand the test of time and the rigors of the water.
Consult your local manufacturer or supplier of marine fabrics if you have any questions. You want a durable, warranty-backed material that has been coated, designed, and developed for the sea/water. Consider using Herculite's Regatta Yacht Fabric or Riviera Marine Fabric.
When it comes to marine fabrics, laminate provides several clear benefits. Learn more by checking out our latest eBook, "Why Laminated Marine Vinyl Fabrics Offer Advantages Over Coated Marine Vinyl Fabrics".