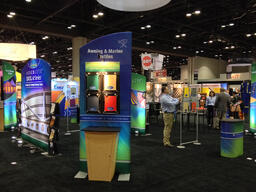 What are specialty fabrics? What are they used in? What are they made of? Who really even cares? Well, when you're buying a boat cover, tent, awning, or even a tarp for your car or truck, the type of fabric you use can make or break your investment.
That's why it's important to know what specialty fabrics are, especially when it comes to your time and money.
Specialty fabrics and textiles are materials
made of various fibers including but not limited to: polyurethane, nylon, polypropylene, wool, rayon, acrylics, polyesters, polyvinyl chloride (PVC), polyamide and many more.
Designing and manufacturing products using these fabrics takes careful preparation and expertise. Finding the right manufacturer who understands how to create and design sp
ecialty fabric products that fits your needs, is important.
At Herculite Inc., providing quality specialty fabric products is its mission. The leading manufacturer of marine covers, awnings, banners, tents and structures, and healthcare fabrics, is also an expert at custom designed specialty fabric projects.
Herculite understands the difference between fabrics used in marine covers versus fabric used in tents. The company boasts a history of excellence and innovation and is a global leader in the fabrics industry. For more than 60 years, Herculite Inc. has been developing, creating, and providing innovative specialty products to the world.
Today, Herculite is not only a leader in the industry, but a trusted resource for technical fabric products. The company truly understands the industrial fabrics industry.
Herculite offers a variety of products that utilize various specialty fabrics. For example:
Herculite uses vinyl and polyester composite fabrics for its marine covers which are waterproof, easy to clean, mildew resistant and lightweight.
Choosing the right marine cover is important for boat owners and understanding the difference between cotton and vinyl covers is essential. While cotton can be used for boat covers, it's not naturally waterproof, can be torn, and isn't mildew resistant.
Technical fabrics offer features that natural fabrics like cotton can't. Vinyl can be coated with environmentally friendly chemicals which provide UV Ray protection and dirt resistance qualities. Vinyl and polyester composites make excellent boat covers. This is why knowing what specialty fabrics are, is important when it comes to buying the right fabric product.
Today, these fabrics are used in things we've never even considered like our clothes. Polyester is a great, durable, long lasting fabric which makes for excellent shirts or jackets.
Polyvinyl Chloride (PVC) or what is commonly referred to as vinyl, is the most common durable fabric on the market today. Vinyl is used in tents, awnings, marine covers, banners, and even in some healthcare products.
Speaker covers, blankets, backpacks, furniture, even some purses and laptop cases are made of custom fabrics like polyester, vinyl, rayon, and nylon.
Understanding what specialty fabric you need for your latest project or purchase is important. Each specialty fabric offers different qualities. That's why finding the right manufacturer – like Herculite Inc. – should be an important part of your product choice. They understand which fabric goes with what application.
Visit www.herculite.com for more information.