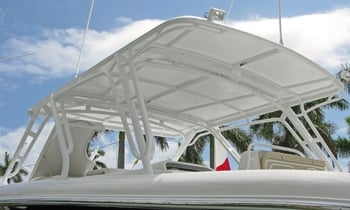 If you're a boat owner, then you know that having a good bimini top is essential. If you're looking for a bimini top for the first-time then all the choices out there can be confusing. What kind of frame should you use? What kind of fabric? Does it matter that you take your boat on fresh or salt water?
Let's set sail and take a look at all things related to bimini tops, and hopefully help steer you to the best option for your boat.
The Unique Requirements of Biminis
First, let's consider the fact that biminis are different from dodgers; they don't offer protection from the side or the front. However, biminis are great for shelter from the rain when your boat is stationary, for shade during a hot day, and they complement your boats style and look. Biminis come in a variety of colors and fabrics. Most are supported by a metal frame; stainless steel or aluminum. Fabric is an essential part of your bimini.
Bimini Fabric Considerations
The fabric should be water resistant and durable; this will save you in the long run.
The color of the fabric should complement your boats style and look. But remember to consider a color that is light so that the fabric won't fade as easily.
UV resistance is a great plus and any fabric that offers this is worth the investment.
Mildew resistant is a great option as well. Remember, even if your fabric is water resistant, over time, it can still break down and mildew can grow.
The texture of the fabric should be soft and easy to handle; it shouldn't be bulky or rough to the touch
The fabric should also be lightweight.
Finding an easy to clean fabric just makes sense and makes your life easier.
Finally, find a fabric that has a good warranty. You never know what's going to happen out there on the water.
Bimini Fabric Types
Woven Acrylic: This option provides a soft fabric appearance that is water resistant. However, the fabric will need to be replaced or treated with water resistant chemicals every few years. This option is more expensive, but the woven acrylic offers a combination of fabric aesthetics and breathability.
Vinyl & Polyester Composite: This option provides the best of vinyl and polyester; durability, long lasting, and easy to clean. The composite can stand the rigors of the sea. Plus, the composite's vinyl component never loses its waterproof characteristics. This option is generally less expensive than woven acrylic.
So where can you find the right bimini fabric for you? Herculite manufacturers a line of quality marine fabrics that can be made into bimini tops, boom awnings, sun, navy and convertible tops, curtains, dodgers, cushions, mooring, and protective covers of all types.
Herculite's marine fabrics are a multilayer composite of specially formulated vinyl with an inner reinforcement core fabric woven from high tenacity polyester yarns and a unique multipart adhesive system.
Herculite offers boat lovers two great options for bimini top fabrics: Riviera Marine Fabric and the Regatta Marine Fabric. The products offer a combination of lightweight, waterproof, mildew and UV resistant, and easy-to-clean features.
Once you have chosen the right fabric remember to choose the right frame, color, and design. The kind of frame you use may depend on whether you go out on fresh or salt water. Generally speaking, stainless steel is the best type of frame for salt water. Aluminum is a good option for fresh water boats. Remember, the frame design you choose should match the lines and style of your boat.
For the best marine cover, contact a canvas shop who is a member of the Marine fabricators Association (MFA)– who can offer custom fitted biminis for the best result.