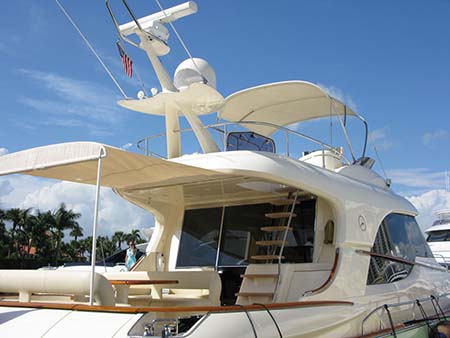 Summer is peak boating season and it's also a time when boat sales experience a significant jump. During the hottest summer days, with the intense sun bearing down, shade can be a lifesaver for boat owners.
A high quality bimini top is the perfect way for boaters to shield themselves and their vessel from the sun's dangerous UV rays. It makes boating more comfortable and enjoyable, increasing the time that boaters can spend on the water, while also protecting the boat from the elements.
It's not just about comfort and protection, though. A top can enhance the boat's style, making it more attractive and increasing its value.
Valuable Protection
Having a high-quality top protects the boat and its passengers. The summer sun, nice in moderation, can become oppressive over hours on the open water. The intense heat it generates can cause surfaces to become hot and others to slowly fade. The coverage from a top reduces the risk of elemental damage to these surfaces and can even keep the boat and its passengers dry during rainstorms.
Most importantly, the shade provided by a boat top provides protection against skin cancer. (It could save your life.) The less time that boat owners and their families are in the direct sun, the less likely they are to receive dangerous UV rays and get sunburns. When far away from shore and without any easy way to escape the sun, boat owners will be happy they made the choice to get a bimini top.
A High Quality Material Makes A Difference
It's important for boat owners to choose a fabric that's tough enough to withstand all of the challenges that come with the marine environment. Choosing a cheaper material ends up more expensive in the long run when factoring in maintenance and replacement costs. There's no substitute for reliability. A high-quality top also keeps its appearance longer, while a cheaper option is more likely to tear, mold, or fade.
One quality option is Herculite's Riviera Marine Fabric® with its environmentally-friendly top-coat, engineered to stay cleanable and designed to resist mildew and oil.
Herculite's Weblon Regatta® is an all-weather fabric made from a vinyl and polyester composite. It has maximum strength and includes the special Rain Kleen® finish that not only prolongs its life but also makes it easier to clean.
Bimini tops with these fabrics are also easy to set up and remove, making offseason storage a breeze. (It's nevertheless important to be aware of the proper care and maintenance.)
Boating In Style
The right high-quality top leaves boat owners riding around in style and comfort. When selecting a bimini top, it's important to choose one that compliments the lines of the boat. The color is also important to create the perfect overall look.
The European-style soft and supple fabric of Riviera Marine Fabric® is available in several shades of white to match the various gel-coats from around the world. Riviera Marine Fabric is also colorfast, so the color won't wash out or fade easily over time.
The Weblon Regatta® fabric is available in even more colors.
Adding a top with a long-lasting, high-quality fabric is a wise investment in shade that also increases the value of the boat and provides the owner with peace of mind and pride.
For more information about Herculite's marine fabrics for bimini tops, visit us at www.herculite.com. Or, if you would like more information about our products and services, call us at 800-772-0036.