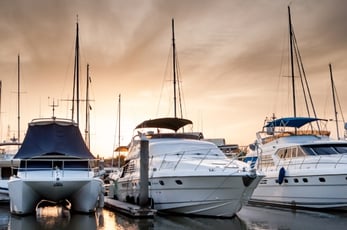 Shade tops for boats come in a variety of shapes, sizes, colors, and styles, so it's important to understand the different options available before making an investment. There are four major types of boat shade tops you should consider:
Bimini Tops:

These are metal-framed shade covers that have an open-front canvas top for the boat's cockpit. These are great for versatility because they can be taken down or left up, depending on your mood.
Enclosure Curtains:

These are clear curtains for your boat, and are usually made of vinyl or acrylic. Enclosure curtains attach to the frame of a shade top or to the sides of the top portion of the boat.
Boat Dodgers

: These are constructed with fabric that has a clear window as part of the textile. The dodger is used to protect or cover the cockpit of the boat. It is attached or bolted to the boat via the frame of the structure.
Boom Awnings:

Just like an awning for your home or office building, these are created specifically to shade large areas. Boom awnings can be fixed or retractable, and are attached to a boat using a metal frame. Unlike a dodger or bimini top, boom awnings are larger and cover most of a boat's open area.
Boat shade tops are designed and developed with specialty fabrics which are created to withstand the rigors of the marine environment. Not all textiles can hold up to the tossing waves, rain, and moisture that boaters face while out on the water. What does this mean for you as the boat owner? It means that when you choose a shade top for your boat, you need to choose wisely and you need to find the right product for your specific needs.
What are some of the things you should consider when it comes to the materials of your boat shade top? Here's a quick list:
Fabric:

Be sure you get marine fabric that is durable and designed specifically for use outdoors and on the open water.

Frame:

Your frame should be designed to take the abuse of the sea. You want a frame that won't rust, break, or crack.

Mold & Mildew Resistance:

This is especially important for boat shade tops because moisture collects on them, and unsightly and unhealthy mold and mildew can grow.

Waterproofing

: This is essential to help the structural integrity of the fabric stay strong and durable despite the onslaught of the waves, rain, and spray.

Colorfast

: You want a fabric that will hold its color despite the being in the sun continuously.

UV Ray Resistant

: You want to be shaded and protected from the sun's harmful rays. Ultraviolet rays can penetrate fabrics unless the textile is made to be resistant.
Remember, taking care of your marine fabric is also another way of ensuring your boat's shade top will last. This means using the right products, soaps, and sponges to ensure you don't rip, tear, or otherwise compromise the integrity of the fabric. And keep in mind that bimini tops, dodgers, and other shade tops aren't exactly the same so the care instructions are different. Be sure to consult your installer for instructions on how to care for your specific shade top.
For continued success in selling boat canvas fabrication services, it's time to consider marketing efforts. Are you working in line with best practices to connect with potential consumers at each decision stage? Download our free guide to learn more, and to establish a plan for consistent growth.