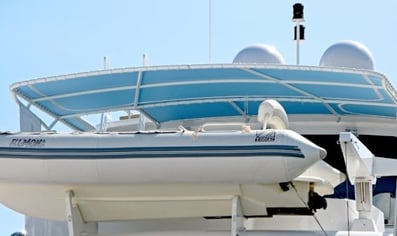 Bimini tops for your boats are excellent for shading you and your passengers, and add a layer of design to your watercraft that makes it stand out. A bimini top is designed to protect you from above. Other boat tops, like dodgers, can provide additional side protections, but give up some flexibility. Bimini tops are popular for good reason, and in this article we will explore the types of bimini tops, and how should make your selection.
Types of Bimini Tops
Hard Top: Non-fabric based bimini tops, typically made from things like polycarbonate, fiberglass, and sheet metals.
Collapsible : Designed to be taken down when not in use.
Portable: Small and are designed to be completely removed from the boat.
Soft Top: These are made with metal frames and specialty fabrics.
Hardtop vs. a Soft Top Bimini
Weight: When it comes to boating, you know that weight matters. With a hard bimini top you're adding extra weight that you may not want.
Size: Hard bimini tops are limited in size and may not cover the desired area completely. With a soft top, you can extend the fabric over larger areas of the boat.
Cost: Though less versatile, hard bimini tops can be much more expensive than fabric soutions.
Cracking: Hard bimini tops can crack from stress, punctures, and other aspects of regular use. If the hardtop material cracks, fixing it can be problematic and may require full replacement.
Keep in mind that by comparison, soft top biminis are excellent choices for you watercraft because they are easy to clean and maintain. Cracking won't be an issue, and the fabric of the soft bimini top is light and designed to withstand the elements. Most of the bimini top marine fabrics are developed to be waterproof, UV ray resistant, and more. Plus, soft top biminis offer a variety of color, pattern, and size options. Soft top biminis can be curved, stretched, and made into shapes that rigid types might not be able to without the risk of cracking.
Installing any kind of shade structure or addition to your boat isn't easy and requires that you do some research. Consult your local boat association or check out the American Boating Association for tips and advice by contacting them. You can also contact your local boat shop for more information.
For continued success in selling boat canvas fabrication services, it's time to consider marketing efforts. Are you working in line with best practices to connect with potential consumers at each decision stage? Download our free guide to learn more, and to establish a plan for consistent growth.