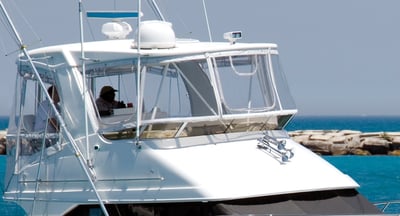 It's officially boat season! Time to enjoy the waves and take your beloved watercraft out of hiding and into the sun. But remember, taking care of your investment is a year-round job.
Key Tips for Maintaining Marine Fabrics:
Regular cleaning and care is important in preserving your boat's fabric; check for spills, stains or tears on all seats, cushions, covers, curtains, and bimini tops.

Selecting the right fabric is important, too. Use materials that are UV Ray, mold, mildew, water and color fade resistant.

Marine fabrics are made from various specialty fabrics including but not limited to vinyl, acrylics, canvas, and polyester. It's important to learn how to care for these fabrics by asking your local marine shop.

When cleaning and caring for your marine fabric, remember not to use abrasive cleaners or sponges. Again, ask your local marine shop which products are safe to use.

Remember to cover your boat when you're not using it.
Not all marine fabrics are made the same. Some are not curl free or dimensionally stable, so it's important to find the right fabric supplier for your nautical needs. 60-year industry veteran Herculite Inc. understands the nuances of the marine industry and offers an excellent line of boat fabrics, including its Weblon Regatta products.
Herculite's Weblon Regatta marine fabrics are:
All-weather resistant to water, oil, harmful UV rays, chemicals, stains, abrasion, and mildew

Dimensionally stable

Light weight

Stretch resistant

Finished with Rain Kleen

Temperature and abrasion resistant
The Weblon Regatta fabrics also feature white tops which reflect heat, pastel linings for glare relief, a wide color selection, and compact storage.
Marine fabrics are designed to withstand the elements and the rigors of the ocean, but it's important to do your part in caring for them. Ask your boat manufacturer which fabrics they're using, and download our free "What You Don't Know About Custom Boat Tops and Covers Can be Costly" ebook for more information.
If you have any questions about marine fabric, or want more information about our products and services, call 800-772-0036.