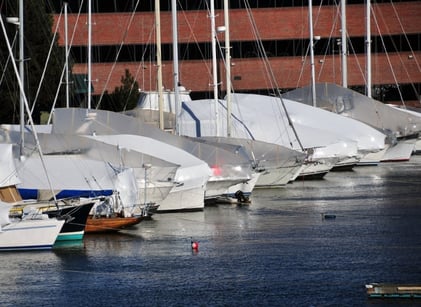 What's so important about buying a boat cover that's waterproof? After all, your boat is made to be in the water! Well, you'd be surprised at just how important it is to have a waterproof boat cover.
For starters, boats, whether in storage or just covered up for a day, need to be protected like anything else. Boats that are not covered with waterproof material run the risk of the following:
Mildew and mold growth
Moisture build up
Sun damage
Scratches or tears from debris/wind/inclement weather
In fact, boat covers are not made from your standard textile. Boat covers are often designed and developed using specialty fabrics that are created to be waterproof and mildew resistant. It's important to keep that in mind, especially if you're tempted to use a cover that's not engineered for boats.
Waterproof boat covers protect your investment and give you peace of mind because you know your boat is safe from water damage while it's in storage. That being said, where can you find quality boat cover material? At Herculite Inc., marine fabrics are a specialty. In fact, Herculite offers boat owners its Weblon Regatta Marine Fabric.
This marine fabric features:
Rain Kleen® finish on weather side
Vinyl and Polyester Composite
Waterproof & Mildew resistant
High, lasting strength – light weight
Dimensional stability – all weather
Heat, cold & abrasion resistant
White tops reflect heat, pastel linings relieve glare
Widest color selection
Compact storage wet or dry
Herculite's marine fabrics are made from strong, flexible polyester fibers with a vinyl coating that makes them waterproof and resistant to wear and tear. Also, Weblon Regatta is built to repel the elements. This all-weather boat fabric is resistant to:
Water
Oil
Harmful UV rays
Chemicals
Stains
Abrasion
Mildew
And, Weblon Regatta is stretch-resistant and it bends around curves and corners, covering the most challenging enclosure or boat shapes with ease. Once sealed, it resists stretching and maintains its shape to avoid warping and sagging.
Now that you know the importance of buying a waterproof boat cover, contact us today to see how we can help you with your next marine project. For more information about us visit us at www.herculite.com. Or call us if you would like more information about our products and services at 800-772-0036.