Antimicrobial Fabrics
Why Use Antimicrobial Textiles? They Inhibit Bacteria Growth on the fabrics
Antimicrobial textiles have been treated to help inhibit or destroy the growth of disease-causing microbes. Commonly used in hospitals and other facilities.
---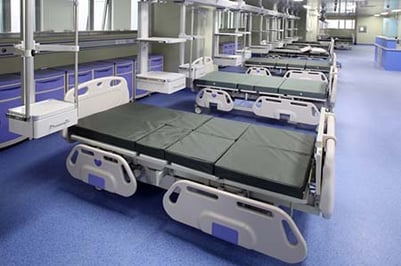 According to the Centers for Disease Control and Protection (CDC), infectious diseases are a leading cause of illness and death worldwide.[1] In fact, healthcare-associated infections in U.S. hospitals are estimated to affect one in 25 hospital patients on any given day, according to a CDC report.[2]
According to that same report, there were an estimated 722,000 healthcare-associated infections in the U.S. in 2011. So how can we improve the safety in a healthcare-associated environment? For starters, we can keep clean, wash our hands, use breathing masks, and wash our clothes. To take it a step further, we can also use antimicrobial textiles.
So just what exactly are antimicrobial textiles? An antimicrobial fabric is a textile that has been engineered to help inhibit or destroy the growth of disease-causing microbes on the surface of the fabric. These fabrics are used in hospitals and other healthcare situations and include but are not limited to things like:
Bed and Pillow Linen
Mattress Covers
Mattress Fillings
Hospital Gowns & Other Clothing
Curtains
Surgical Cloth and Coverings
Bandages
So where do manufacturers of these kinds of antimicrobial textiles get their specialty fabrics from? Well at Herculite Inc. we offer the original healthcare fabrics that were patented for use as protective covering fabrics and today are the standard in the industry: Sure-Chek®.
Herculite developed Sure-Chek® medical fabrics in cooperation with healthcare professionals to provide industrial fabrics that are comfortable, safe and effective for use in healthcare facilities, prisons, jails, camps, and dormitories.
Sure-Chek® fabrics are strong, durable, antimicrobial, and antistatic, as well as being resistant to flame, stains, odors, fluids, and popular disinfectants when used as directed. Sure-Chek® brand medical fabrics are enhanced by a controlled release system, which enables the "slow release" of a specially formulated antimicrobial system to the fabric surface, lasting for the life of the medical fabric. This was originally patented as "Staph-chek®" and was later renamed Sure-Chek®. Today, Herculite has successfully advanced the technology to incorporate other materials and innovative process technologies.
Using textiles that include antimicrobial fabric protection in healthcare linens, clothing, and other personal protective equipment can help prevent the spread of diseases by stopping microbes from infecting the fabric.
To learn more about Herculite's line of healthcare fabrics visit us at www.herculite.com/healthcare-fabrics.
For more information about Herculite's specialty fabrics visit us at http://www.herculite.com. Or feel free to call us if you would like more information about our products and services at 800-772-0036.
[1] A CDC Framework for Preventing Infectious Diseases: Sustaining the Essentials and Innovating for the Future. Centers for Disease Control & Prevention. October 2011. http://www.cdc.gov/oid/docs/ID-Framework.pdf.
[2] http://www.cdc.gov/HAI/surveillance/