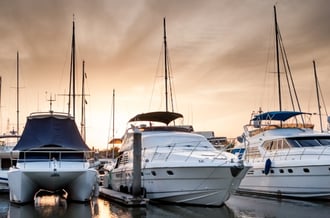 Boats face many potential maintenance problems throughout the year. With a strong knowledge of proper off-season care techniques, you can avoid or limit many of these preventable issues. In fact, a meticulous winterizing process can improve the performance and appearance of your boat.
The off-season care process requires more than simply pulling your boat out of the water, draining the engine's fluids, and adding antifreeze. Always consult your owner's manual before starting the winterizing process. If it's your first time, consult with a professional for advice and boat maintenance tips.
Finding appropriate boat storage is particularly important for those in cold-weather conditions. Visit your boat frequently throughout the off-season. You'll be able to prevent leaks from snow build-up and ice exposure that can damage the hull if you catch issues early.
Clean Your Boat Inside and Out
Thoroughly clean your boat inside and outside before putting it away in winter storage. Everything from the hull, propellers, and shafts to interior drawers, cabinets, and upholstery should be inspected and cleaned.
Remove items from the boat such as electronics, flares, and fire extinguishers before cleaning. Cabinets and drawers should be emptied and cleaned. Remove cushions and store them in a climate-controlled location if possible. Otherwise, turn the cushions on their edge to allow for more air-flow.
Depending on your winter climate, you may need to take measures to limit moisture within the boat while it's in storage. Installing a dehumidifier or using desiccating products can aid in limiting the moisture levels inside your boat.
The exterior of your boat also needs to be cleaned before off-season storage. Pressure wash the hull to remove dirt and other residue that have accumulated over the previous months. For soft surfaces like bimini tops or vinyl windows, make sure to use the manufacturer-specified cleaning process to keep them in top condition. Inspect the rudders, propellers and shafts, and other exterior surfaces for barnacles, scraping them off.
Start with the Engine and Change the Oil
The engine is the one of the most important parts of your boat. That makes it particularly crucial to inspect for maintenance needs during the off-season. Start your inspection with the basics and check your boat's oil levels first.
Every 50-100 running hours your boat's oil should be changed. Run the engine to warm it up during the oil-change process as it helps drain the oil. You should also check for leaks and frequently inspect the oil levels between oil changes to ensure you're not running low.
Flush the engine with non-toxic antifreeze using an intake hose connected to the water pump. Change the boat's transmission fluid, remove the spark plugs, and clean the engine with fogging spray.
Propeller Maintenance
Propeller maintenance is easier for boat owners who choose to use dry dock storage in the off-season. With the boat up and out of the water, you'll be able to check for any necessary maintenance. Check for routine repairs like bad bearings, corroded zinc anodes, or leaky seals. These are all repairs that can be made while the boat is in the water but is much easier during the off-season at a dry dock.
Check your propeller carefully for any signs of damage – if any is discovered you'll have time to decide whether to repair or replace the prop. Check the blades for dents or breaks and if you find any, consider past performance before deciding. If the boat already had bad fuel mileage and poor performance, it's likely time to replace the propeller.
Cover Your Boat
Don't cut corners when it comes to your boat cover. It may seem unimportant to spend more for a cover made with premium materials when it's only used in the off-season, but your cover is an integral part of preventative care for your boat. Finding the right boat cover seller is an important first step in this process.
Simple tarps can be used as a cover, though you'll need to add a barrier layer between the tarp and the boat. Tarps tend to be made from abrasive materials that, when exposed to wind, will shift and damage your boat's finish.
Other boat covers are made from cotton, vinyl, acrylic, and polyester. They can either be custom-made to your boat's specifications, or you can purchase a pre-made cover. For the best protection and longevity, a polyester fiber boat cover with a vinyl coating like Herculite's Weblon Regatta Marine Fabrics are the best choice. This material is more water-repellent and mildew-resistant than any other less-expensive fabrics.
Create an Off-Season Checklist So Nothing is Forgotten
Even the most seasoned boat-owner is prone to forgetting a step in the off-season process. To avoid the pitfalls of leaving off even a minor task, create a checklist to use as a reference while winterizing your boat. This will ensure that when you're done with the winterizing process, you can rest assured you've covered all of your bases.