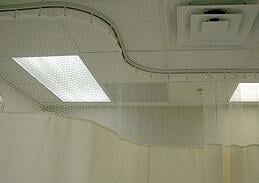 Interior designers of healthcare facilities face unique opportunities not found in other public buildings. In addition to designing a space that is functional, flexible and efficient, healthcare facility owners today are focused on creating a positive space that is comforting for their residents, patients, and visitors and ensures employee satisfaction and safety.
The design process begins with determining the business owner's function criteria and vision for the project, followed by laying out the actual design and material choices.
Here are 6 considerations when choosing curtain fabrics:
Soft flexible polymer surfaces such as Sure-Chek Linen are highly cleanable, wipeable, and stain resistant and can be disinfected.
Anti-microbial surface protection systems such as Sure-Chek protects the fabric from the growth of infections bacteria for the life of the fabric.
There are unlimited choices in Color and texture - coordinate with room design, fashionable.
Use of light can be incorporated in room design by utilizing the inherent translucency or opacity of the fabric choice from very translucent to total blackout.
Fabric walls are changeable with interior updates so updates can be planned.
Solid colors have a clean, open appearance that does not go out of style.
As facility trends continue to explore improved efficiencies and safety, track curtain fabric systems will continue to have a key role in creating an environment that is practical and comfortable for an overall positive experience.
Sure-Chek Linen curtain fabric by Herculite offers a durable, easy to clean fabric in popular color choices along with the ability for customization where the project demands.