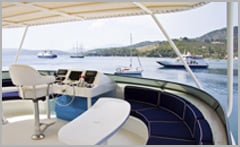 A Bimini top provides boaters with protection from the sun and harsh weather conditions. It's also a stylish addition to any boat's overall look. When looking at the different components of boat top, the most important thing to consider is the type of fabric. Choosing the highest quality fabric increases protection and prolongs the life of the top.
The Evolution of Fabrics
Originally, most fabrics used for boats were made of canvas, a tightly-woven, cotton-based material that is durable and often water resistant. Over the past 100 years, though, synthetic fibers, composed of polymers, have largely replaced traditional canvas.
Synthetics like acrylic and polyester composites are now the major fibers used in the production of marine fabrics. Both are significantly more durable than traditional, natural fabrics. They can stretch more effectively, offer better waterproofing, and are easier to clean. When properly treated, they provide UV resistance, which prevents fading.
But which material is the best for a boat top?
Polyester: The Superior Choice
The ideal fabric for Bimini top is one that is soft, flexible and lightweight, making it easy to install and then take down when not in use. On top of this, a high degree of resistance to water, oil, and chemicals means that the top will last longer and retain its look over time. When considering these factors, a polyester fabric coated with vinyl becomes the better choice.
The acrylic used in boat tops is typically the solution dyed variety, in which the component parts of the fabric are pre-dyed and pre-coated. This fabric provides some degree of water resistance, but it will usually need to be replaced or treated with water-resistant chemicals every few years to retain its effectiveness. As a result, acrylic fabric often ends up being more expensive.
While acrylics provide some degree of water and stain resistance, polyester fabric is superior in both respects. Due to its construction, polyester composite never loses its waterproof characteristic, cutting down on replacement or expensive treatments. It provides stronger protection against oils and chemicals than does acrylic fabric. Polyester's overall durability, especially protection against abrasion, is also unparalleled.
This combination of increased softness with the highest degree of protection can only be found in top-of-the-line polyester fabrics.
High-Quality Polyester Options
For those looking for the highest quality fabric with industry-leading UV resistance, Herculite has two great options. Both Weblon Regatta® and Riviera Marine Fabrics® are vinyl and polyester composites that provide years of durability. The Regatta fabric is even treated with a special waterproofing coating, Rain Kleen, which further prolongs its life while providing long-lasting color. The Riviera fabric, meanwhile, is a good option for those looking for a material with a slightly lighter weight.
For many boaters, the choice of top will also be dependent on its style. Fortunately, in addition to its top-notch durability and performance, Hurculite's fabrics show are available in a variety of color choices.
Knowing is more than half the battle when it comes to boat tops. Download our latest ebook to get the scoop on boat top fabrics before making your next purchase.