Awning Fabrics
Awnings for Decks - Fixed vs. Retractable
One of the first considerations is whether your awning should be fixed or retractable.
---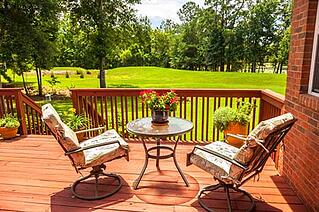 There are so many reasons to want awnings for decks, whether you're an individual business owner or an architect or developer designing buildings or complete shopping centers. Awnings can simply provide shade for your storefront, or they can create an upscale outdoor room that beckons patrons for food and beverage service or for relaxation at a country club poolside patio or golf-view balcony.
One of the first considerations is whether your awning should be fixed or retractable.
Why choose fixed?
Storefronts need round-the-clock business promotion as well as shade and decoration.
Permanent installation is hassle-free.
Permanent installation is strongest, so it's best able to withstand the harsh weather fluctuations.
You can design virtually any customized shape you want.
You can cover a much larger area.
Why choose retractable?
You can achieve an authentically historic look.
Awnings are stored out of the way when you don't need temporary or seasonal shade.
You can choose manual crank operation or remote control, even programmable remotes with sensors that detect sun or wind and unfurl or retract the awning accordingly.
Since they aren't used in winter, you can benefit from solar heat and maximum natural light when you actually want them.
Choosing between fixed or retractable isn't merely a matter of preference. Location, architectural considerations and weather conditions are all factors that determine which choice will give you the look and the lifespan you're looking for.
Old-time canvas has been replaced by an amazingly versatile array of synthetic and laminated fabrics that can meet virtually any performance standards. As a pioneer in the high-performance fabrics industry, we know first-hand what works and what doesn't, including which fabric traits are most pertinent for your application.
Brand names resonate with clients.
When you choose Herculite® Products, you know you're getting top quality and reliability based on our 60-years of experience. Cost matters, of course, but the lowest price can become your biggest problem down the road. Herculite® brand fabrics assure the kind of strength and durability that provide an excellent return on your investment and lower total cost of ownership.
All Herculite® brand fabrics are made in the USA, using a core-stabilized process that ensures top performance, thanks to excellent dimensional stability. That's why these fabrics all come with top-of-the-line warranties. Specialty fabrics can address one or more of these performance requirements or design preferences:
UV protection
Fire resistance
Stain and mildew resistance
Scratch resistance
Semi-transparency
Back lighting
Digital or other graphics application
One of these Herculite® premium fabrics is ideal for your awning:
Weather-Chek
Natura®
Coastline Plus®
Patio 500®
Vanguard®
Or, if your specs are truly unusual or you have other needs, ask about our custom-engineering capabilities. We'll fabricate exactly the fabric you need, complete with all the superior performance and appearance characteristics you want.
It's easy even for professionals like building materials specifiers to feel overwhelmed by the options when it comes to awnings for decks. Our experts at Herculite® take pride in offering detailed, personalized consultation to help you make the smartest – and smartest looking – choices, no matter what your application. We'll help you decide whether fixed or retractable is the right option for your next project.