Tent Fabric
Best Fabric for Your Tent Structure
Using the right material for your tent structure is essential when it comes to protecting from the harsh ultraviolet rays of the sun and moisture.
---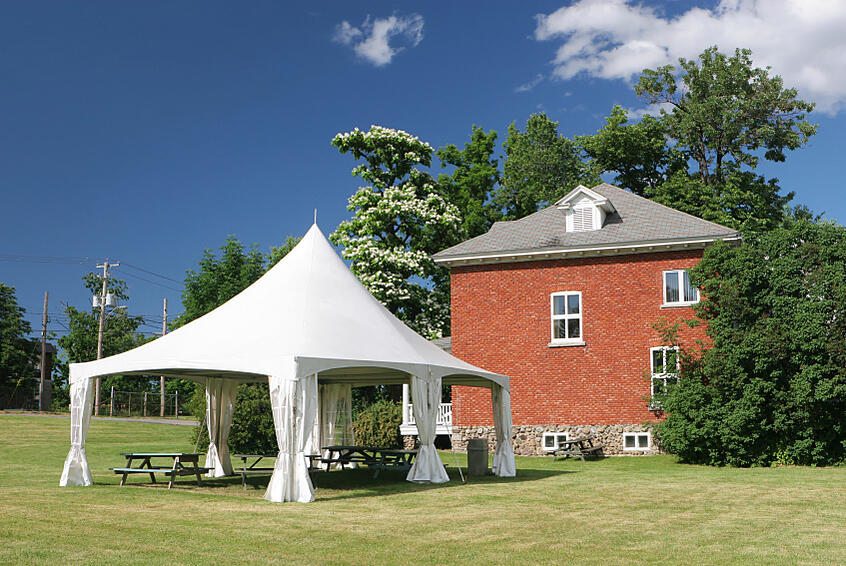 It's that time of year! The sun is shining, the weather is great and it's time for backyard barbecues, parties, and events. The one thing you're going to need for your event is a solid tent structure to help shade your guests and keep you cool.
Tent and Structure Fabric Choices
Using the right material for your tent is essential when it comes to protecting your family and guests from the harsh ultraviolet rays of the sun and moisture. It's a common misconception that tents and tension structures like awnings, are made out of the same materials. Choosing the wrong fabric for your structure can put a damper on your festivities.
Engineered Vinyl Fabric
This is the best choice for any tension, party, awning, or tent structure. Herculite Inc. offers professional tips, advice, and specialty engineered vinyl products for your fabric structure needs. Herculite also offers a complete selection of high performance advanced technical textiles custom engineered specifically for the diverse needs of this market from clear span structures to party tents and sidewall applications.
Nylon Fabric
This is one of the most popular choices out there on the market next to specialty engineered products. Nylon can be waterproofed and offers your tent breathability. Nylon is durable and an excellent choice for your fabric structure.
Polyester and Vinyl Composite
This is another popular choice. The composite provides the best qualities of vinyl and polyester. The composite is durable, lasts long, and is easy to clean. It's also naturally waterproof which is important if you're using your fabric structure in a humid area. You don't want moisture to get trapped in your structure and start growing mildew or molds.
Rip Stop Nylon
This is a good option for those outdoors enthusiasts like hunters or hikers. Rip stop nylon is constructed with heavier fabrics woven in; this helps prevent tears. While this is a great option for your camping tent, keep in mind it is heavier material.
Cotton Canvas
Remember, cotton canvas used to be a common material for these types of structures. But with technological advancement and better engineering, the material isn't used as often as it used to be. Now you can purchase a fabric structure that protects from ultraviolet rays, is waterproof, and mildew resistant.
Herculite Inc. offers a variety of products that provide the above specifications plus a range of colors and designs that fit your taste. Herculite's Core Stabilized Process insures the highest level of dimensional stability and resistance to stretch for maximum performance in its tent fabric. Here's a quick rundown of Herculite's family of Structure and Tent Fabric brands:
Architent® Tent Fabric - engineered for maximum strength and durability, with PVDF topcoating options – perfect for fabric architecture and tension structures.

Showtime® Tent Fabrics – the standard for theme park and event tents. Showtime offers the largest in-stock color selection of tent top vinyl in the industry.

Architent® WideSide – the premier 90" and 98" seamless sidewall fabric in the industry, offering significant time and labor savings.

Custom Engineered Tent Fabric Products - Herculite's experienced product development staff can engineer a fabric to your specific requirements.
Check out http://www.herculite.com/tent_and_structures.htm for more information.