Tent Fabric
Blackout Tent Fabric Considerations
Blackout tent fabrics are opaque and do not allow light to get through. What are your options?
---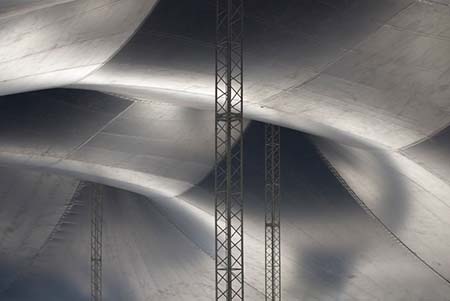 Tents are great structures to have whether for camping or for an event. One of the many things we consider when purchasing a tent is cost and size. But, there is another thing that we should consider that we don't often think about; whether or not the tent completely blacks out light.
What is a Blackout Tent Fabric?
Blackout tent fabrics are designed to keep out light. The material isn't hard to find and companies like Herculite Inc. offer blackout fabrics for tents and structures. The material is used to keep out light and provide a cozier environment for that backyard party, wedding, or event. Blackout materials can also be used for camping tents.
The material is made from an opaque or nontranslucent fabric; it has a dark opaque layer in the middle with two white layers of fabric on the outside. The fabric is heavy and allows you to control heat and light within your tent or structure.
Blackout tent fabrics are opaque and do not allow most light to get through. Blackout material can be so effective that you might need an interior light for your tent or structure. The material is also more forgiving when it comes to dirt and imperfections. However, if there's a pinhole it will be noticeable to your guests. That's why taking care of any fabric structure by carefully storing it and cleaning it is a must!
Blackout Tent Fabric Options
Blackout material comes in a few options including polyester, vinyl or a composite of polyester and vinyl.
Polyester fabrics are strong, durable, and resistant to most chemicals, shrinking, stretching and are mildew resistant. Polyester makes for great outdoor clothes.
Vinyl is also tough, durable, and easy to clean, it's also resistant to moisture and humidity, and can be produced in a variety of colors. Vinyl is also low cost, long lasting, and recyclable.
Using a vinyl and polyester composite is an excellent choice when it comes to blackout or translucent tent materials; you get the best of both! Herculite offers a line of high performance tent and structural fabrics that feature its proprietary PVC formulation of a vinyl-polyester composite.
Herculite's Architent® tent and fabric structure products are ultra violet degradation resistant and low cold temperature flexible. The products also feature double mildewcide treatment for maximum mildew and wick resistance, resulting in a long lasting tent. Herculite also offers the products in a variety of colors. Architent products are registered with a variety of government agencies, including the California Fire Marshal, NFPA, CPAI, Canadian NFPA, M2 and others.
Blackout materials can be used for party tents, sidewalls, and clear snap structures. Keep in mind, blackout materials aren't for everyone. Consider the type of event you're having, where you're having it, and whether or not you want it to be a dark and cozy event or a light and open event.
Finally, if you're considering blackout material for your next tent, remember you can always have it custom engineered so it fits your style and your needs. Consulting a professional is always best, especially when you're considering something like blackout material.