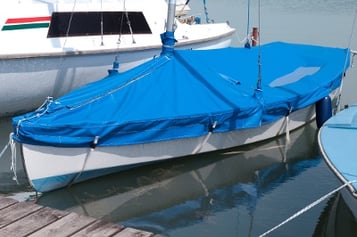 On the open water, marine fabrics are used to protect occupants and watercraft from the sun, wind, and surf. They're also used to protect boats in storage, either dry-docked or at the pier.
Boat owners put a lot of thought into the design of their enclosures and boat tops, but often overlook one important factor: the materials they're made from.
Unfortunately, a lot of boat owners will use non-marine-grade products to try and save a buck. That decision will almost always backfire, leading to higher costs in the long run. Choosing the right fabric can actually keep yearly boat maintenance costs down over time.
High-quality marine fabrics last longer and perform at a higher level than less expensive alternatives. They can also help protect your boat from structural damage and make your experience on the water more comfortable. Better quality marine fabrics, including canvas, vinyl windows, and upholstery, increase the resale value of your boat as well.
But what qualifies a fabric as a top-of-the-line marine-grade material?
Water-Resistance vs. Waterproof
Many buyers assume that all marine fabrics are fully waterproof. However, a lot of cheaper fabric is only water-resistant. When fabricating a boat enclosure, cover, or bimini top, this distinction can represent hundreds or thousands of dollars worth of water damage.
Depending on the material you choose, unexpected rain can either be a welcome delight or a uncomfortable hassle for your passengers. Make sure the fabrics you're choosing are waterproof, not just water-resistant.
That said, you don't want a cover that doesn't allow for airflow. One common myth is that the tighter a cover is, the less likely it is that you'll experience problems. Quite the opposite is true — with no airflow, you increase the likelihood that mildew and mold will develop, which can cause major damage to your hull, electronics, upholstery, and more.
For this reason, a simple plastic tarpaulin cover isn't the right choice for storage, and many owners who try to save money on a cheap storage cover end up with mold. A cover should be waterproof, but ventilated.
UV Resistance
Marine fabrics need to be produced with UV resistance in order to maintain flexibility and structural integrity over time.
PVC marine canvas is made using plasticizers, chemicals that help keep the material flexible. These plasticizers are degraded by UV rays. In order to protect the material, manufacturers will apply UV-protective coatings. Any vinyl or acrylic outdoor fabric that doesn't come with a UV-protective coating isn't really designed to last outdoors.
Structural integrity is one thing, but you also want a fabric that will look good for the long haul. UV-protective coatings are designed to keep canvas from fading in the sun. Inferior protective coatings lead to prematurely faded fabrics, which brings down the value (and your enjoyment) of the boat.
However, claims of UV protection aren't enough. A number of inexpensive vinyl products say they come with UV-resistant coatings, but those coatings aren't always up to the task. There's a big difference between coated protection and laminated protection when it comes to the durability, aesthetic quality, and other factors such as watertightness.
Choosing a high-quality marine-grade material with Rain Kleen lamination like Herculite Riviera ensures the long-term quality of your product, rain or shine.
Best fabrics for keeping yearly boat maintenance cost down:
Freshwater/general use: Weblon Regatta® Marine Fabrics — Lightweight, all-weather marine vinyl composites that are designed to stand up to the elements. Made from polyester-reinforced PVC material, Weblon Regatta fabrics come with an exclusive Rain Kleen coating that helps bead and wick away water to prevent mold, mildew, and irregular fading and wear.
This material is especially strong against the wind, thanks to its stretch-resistant qualities. Weblon Regatta comes in a variety of colors and patterns to suit your preferences.
Saltwater: Herculite Riviera Marine® Fabrics — Perhaps the most resilient marine fabrics on the market, Herculite Riviera Marine Fabrics are designed to stand up to everything the ocean will throw at your boat: wind, rain, sun, and, of course, salt.
Riviera products are designed to enable easy wrinkle-free installation and stay lightweight despite their ruggedness. Thanks to their waterproof lamination, they are easy to clean as well. Riviera is a vinyl composite on a scrim base of high-strength filament polyester.
Vinyl windows: Strataglass Clear Vinyl Windows — The most recognized brand in clear flexible coated vinyl. Windows made using Strataglass material are crystal clear, rugged, and help eliminate glare. They're designed to stay that way, too, thanks to a VueShield coating, which protects against scratching, UV and mineral degradation, and chemical damage.
Crystal Clear Vinyl Windows — Made using the same process as Strataglass, Crystal Clear is an uncoated vinyl window material with unmatched clarity. Unlike cheap vinyl window material, Crystal Clear presents no visual distortion, no haziness or dimples, and no fish-eye effects with regular maintenance and care. For boat owners on a budget, Crystal Clear is a great affordable option.
The investment you make in marine fabrics will impact the overall cost of owning a boat. High-quality materials can increase the value of a watercraft and help protect your boat from the elements.
When choosing a fabric manufacturer for your boat tops, enclosures, covers, and windows, make sure you're getting the best quality at the right price.
Get boat-saving tips to extend the life of your yacht by contacting Herculite.