Tent Fabric
Fabric Structures are more than just Party Tents
Fabric structures are used for more than just parties and outdoor occasions.
---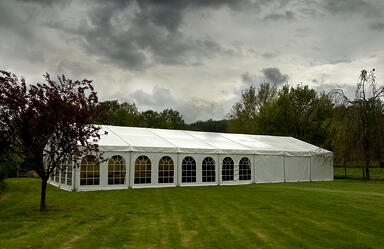 Fabric structures are used for more than just parties and outdoor occasions. When you drive by a farm, see a mobile military unit/base, or even walk through an amusement park or circus, you might be surprised to know that many of the structures you're seeing are made from specialty fabrics.
In fact, fabric structures are used in industries that include but are not limited to:
Military
Agriculture
Healthcare
Theme Park/Entertainment
Sporting Events
Industrial
You might not realize it, but when you pass by one of those isolation tents in the field, or those structures that the military put up in the desert, but those are actually specialty fabric structures. They are designed to withstand the elements, to be durable and UV ray resistant. Many of these structures are also flame retardant and mildew and mold resistant. Some of these structures can also include blackout material so that no sunlight actually gets through. In the industrial category, fabric tents can be used to create clean rooms and other work areas. In the healthcare industry, fabric structures can be used to create mobile hospitals and sterile environments.
Fabric structures in the agriculture industry are also designed with the ability to insulate or allow light to filter through the material. In fact, fabric structures are so versatile you can use them as part of your home or as an outdoor living piece. For example, awnings, patio covers, shade structures, and party tents are types of fabric structures that we utilize all the time. When you go to a theme park, those tents you see are also fabric structures.
The uses of fabric structures are far reaching and as you can see are part of our lives more than we might think. From party tents for your wedding to shade structures for your backyard, fabric structures are incredibly useful and versatile.
The fabric that these structures are made of also vary and at Herculite Inc., tent and structure fabrics are a specialty. Herculite offers several fabrics that can be used for structures including its Architent High Performance Tent and Structural Fabrics, Showtime Theme Park and Event Tent Fabric, and its Architent Wide Sidewall System.
Architent® Tent Fabric- engineered for maximum strength and durability, with Acrylic and PVDF top-coating options – perfect for fabric architecture and tension structures.
Showtime® Tent Fabrics– the standard for theme park and event tents. Showtime offers the largest in-stock color selection of tent top vinyl in the industry.
Architent® WideSide– the premier 90" and 98" seamless sidewall fabric in the industry, offering significant time and labor savings.
For more information about fabric structures visit us at www.herculite.com.